Automated Reprocessing for Ultrasound Probes
Introducing Automated Disinfection Systems for Ultrasound Transducers
With the steady growth of ultrasound combined with an increasing awareness of infection control practices, medical device manufacturers have recently developed automated reprocessors for ultrasound transducers. Automated disinfection systems help to standardize disinfection processes, improve staff workflow, and meet compliance standards - the sum of which improves patient and staff safety.
Why Automation?
Following proper reprocessing procedures is a significant challenge. When The Joint Commission released its 2016 annual summary of the "Top 10 Challenging Standards" ambulatory health care accredited organizations experienced in 2016, coming in No. 1 was standard IC.02.02.01: "The organization reduces the risk of infections associated with medical equipment, devices, and supplies."
Non-compliance with this standard is most likely due to shortcomings in reprocessing, says Phenelle Segal, RN, CIC, FAPIC , president and founder of Infection Control Consulting Services, a national consulting firm based in Delray Beach, Fla.
"There is a combination of factors that result in non-compliance with respect to reprocessing," Segal says. She notes that these include the following:
Failure to follow manufacturer instructions for use (IFU)
Inconsistent practices
Increased workload for reprocessing department
Staff turnover
Lack of formal training and education
Automating the process can help with following proper reprocessing procedures and maintaining compliance. While automation does not make the process perfect, it helps to improve compliance.
Why the wait?
Automated endoscopic reprocessors have existed for decades; however, the design of ultrasound probes presented a unique challenge for reprocessing. Since some parts of the transducer cannot contact liquid and a probe cannot be fully submersed in liquid, the development of automated ultrasound disinfection systems was not possible until recently. Advancements in technology have worked around that design nuance with innovative solutions, including the series of ASTRA reprocessors which received their FDA clearance in 2016.
U.S. DISINFECTION STANDARDS FOR ULTRASOUND TRANSDUCERS
High-Level Disinfection
According to the Center for Disease Control and Prevention (CDC), transvaginal, transrectal, and transesophageal (TEE) probes are 'semi-critical' instruments that should be high-level disinfected between patients.
CDC Guideline for disinfection and sterilization in healthcare facilities, 2008. pg 19
FDA-cleared High-Level Disinfectants
The Food and Drug Administration (FDA) has approved ortho-phthaladehyde (OPA), hydrogen peroxide, glutaraldehyde, and peracetic acid with hydrogen peroxide as high-level disinfectants.
Probe Covers
In addition, the CDC also requires the "use of a new condom/probe cover for the probe for each patient".
W Rutala, David and the Healthcare Infection Control Practices Advisory Committee (HICPAC)
"CDC Guideline for Disinfection and Sterilization in Healthcare Facilities" 2008

The American Institute for Ultrasound Medicine (AIUM) also recommends that "all internal probes should be covered with a single-use barrier."
INFECTION CONTROL
Ultrasound Infection Exposures
As previously stated, ultrasound probes are classified as semi-critical devices with intermediate risk. As such, high-level disinfection is required.
This stringent level of reprocessing, combined with the requirement of a probe cover or sheath, explains why few cases of contamination have been reported in the United States. However, cases of exposure have been attributed to improper cleaning and disinfection practices. Some reported cases include:
In 2006, L.A. County Department of Public Health reported that nine patients developed E.coli infections related to TEE probes used for cardiac surgery due to insufficient cleaning practices and a deteriorating TEE probe.
Outbreak of Escherichia coli Infections Associated with a Contaminated Transesophageal Echocardiography Probe http://publichealth.lacounty.gov/acd/reports/spclrpts/spcrpt06/eColi_SS06.pdf
In 2011, sixteen patients were found to have P. aeruginosa in their respiratory tract after undergoing cardiovascular surgery. The source of the contamination was a multi-dose ultrasound transmission gel on a TEE probe.
https://www.cdc.gov/mmwr/preview/mmwrhtml/mm6115a3.htm
HPV
There is raised awareness around HPV in relation to endovaginal and endorectal ultrasound probes. HPV is a causative agent of cervical cancer and a leading cause of other cancers.
Probes Remain Contaminated with HPV after Low-Level Disinfection
Two French studies showed that 3-7% of transvaginal ultrasound probes remain contaminated with high-risk HPV DNA after ultrasound examinations. However, only low-level disinfection was performed with quaternary ammonium compound wipes between patients. As stated, high-level disinfection is required in the U.S, in addition to the added safety measure of ultrasound probe covers.
There is no known documented evidence in the US that endocavity probes, when used with a probe cover and after proper high-level disinfection, have been the source of HPV.
The FDA has cleared all high-level disinfectants on the US market for use. Efficacy claims by a manufacturer against specific viruses such as HPV are not cleared by the FDA and are considered "off label" claims.
*Casalegno et al. High Risk HPV Contamination of Endocavity Vaginal Ultrasound Probes: An Underestimated Route of Nosocomial Infection? PLoS One. 2012; 7(10): e48137. Published online 2012 Oct 24. doi: 10.1371/journal.pone.0048137 xx
Fatima M'Zali, Carole Bounizra, Sandrine Leroy, Yahia Mekki, Claudine Quentin-Noury, Michael Kann, Persistence of Microbial Contamination on Transvaginal Ultrasound Probes despite Low-Level Disinfection Procedure. 2014 XXXX
Leroy S J Hosp Infect. 2013 Feb;83(2):99-106. doi: 10.1016/j.jhin.2012.07.014. Epub 2012 Sep 13. Infectious risk of endovaginal and transrectal ultrasonography: systematic review and meta-analysis.
MANUAL VS. AUTOMATED DISINFECTION
Challenges with Manual Disinfection
Manual reprocessing remains a popular option, particularly for facilities with a low volume of procedures or budget constraints. Concerns associated with manual reprocessing include:
Longer disinfection process
Restrictive staff workflow
Lack of standardization
Increased exposure to high-level disinfectants
Manual logging of the disinfection process
Maintaining appropriate temperature
Potential damage to probes from unnecessary handling or oversoaking in disinfectant
In lieu of an automated disinfection system, proper high-level disinfection can be achieved with careful oversight and vapor control systems such as a GUS Disinfection Soak Station .
Factors to Consider when Choosing Automated HLD
When choosing an automated reprocessor for ultrasound probes, the following factors should be considered:
The cycle time from start to finish (not just the disinfection time)
The number of probes that can be disinfected at one time
The type of disinfectant - is it proprietary? Is it re-usable or single-use?
The cycle cost, e.g. what is the 5-year operating cost?
Is the disinfectant cycle data stored automatically or via a printout that requires manual
completion and maintenance of a logbook?
Does your facility require the neutralization of disinfectants?
The disinfection surface area - how much of the probe is disinfected (can it disinfect above the
handle or strain relief)?
Transducer compatibility - does the probe safely fit inside the reprocessor's chamber, e.g.
accommodating some large endorectal probes can be difficult.
DISINFECTION & COMPLIANCE MADE EASY
The ASTRA TEE and ASTRA VR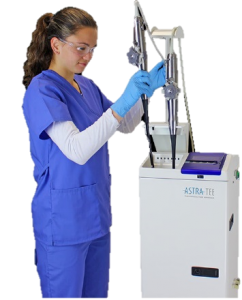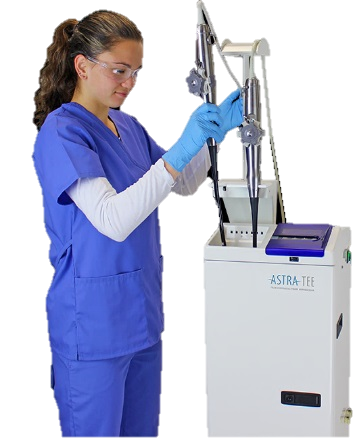 The ASTRA® series of reprocessors received their FDA 510K clearance in March 2016 and took ultrasound disinfection to the next level of innovation. CIVCO expanded system compatibility to include both OPA (Cidex™ OPA and Metricide™ OPA Plus) and hydrogen peroxide (UltrOx™ and Revital-Ox® RESERT®) high-level disinfectants. They are the only automated ultrasound reprocessors able to disinfect up to two probes simultaneously. The ASTRA® VR disinfects and rinses one or two endovaginal or endorectal probes, while the ASTRA TEE® disinfects and rinses one or two transesophageal probes.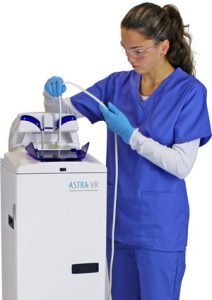 Automated Logging
The ASTRA systems utilize built-in barcode technology to capture and store disinfection data.
They automatically capture probe information, operator ID, temperature, date and time of disinfection, the minimum required concentration (MRC) pass or fail, electrical leakage test pass or fail and cycle outcome. All data from approximately the last 2,000 cycles is stored on the ASTRA and downloaded via a USB port as needed.
Lower Cycle Costs
In addition, the ASTRA systems do not use proprietary disinfectants, which drive down cycle costs significantly. One bottle of disinfectant can perform approximately 150 disinfection cycles.
In short, the ASTRA series of ultrasound probe reprocessors:
Help to meet Joint Commission standards
Provide rapid disinfection and rinse
Generate very low operating costs (approximately 150 cycles per bottle of HLD)
Use hydrogen peroxide and OPA, not Glutaraldehyde
Disinfect one or two probes at a time
Can disinfect above the strain relief
Utilize a built-in barcode reader for data logging
Automate the entire disinfection log process (no printouts required)
Automate the tracking of consumables
To learn more about factors when it comes to automated reprocessing, read our disinfection blog, "Thinking about Automation for Your Ultrasound Probes"