Best Practice for TEE Probes: Electrical Leak Testing
If your facility's goals are to improve patient safety, ensure compliance and extend the life of your transesophageal (TEE) transducers, then performing an electrical leak test on your TEE probes between each use should be part of your high-level disinfection procedure.
TEE probe manufacturers recommend electrical leak testing as part of proper probe maintenance. Going one step further, the Intersocietal Accreditation Commission (IAC) is leading the best practice of electrical leak testing by requiring that their 9,000+ accredited members leak test TEE transducers between each use.
WHAT IS ELECTRICAL LEAK TESTING?
Electrical leak testing checks for damage to the shaft of a TEE probe that could result in an electrical discharge to a patient during a procedure.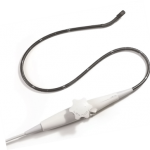 Given the proximity of the TEE transducer to the heart during a transesophageal echocardiogram procedure, an electrical discharge can be a dangerous consequence of probe damage1.
There are other crucial risks to patients and probes to consider as well.
POTENTIAL SAFETY RISKS OF NOT LEAK TESTING
Using a TEE probe that has failed a leak test is dangerous! An electrical leak tester will not only protect your patients, but it will help protect delicate transesophageal transducers.
ELECTRICAL DISCHARGE
Again, think of how dangerous this is, given the proximity of the TEE transducer to the heart during a transesophageal echo procedure.
CROSS CONTAMINATION AND INFECTION
If the insertion tube of a TEE transducer is damaged, bacteria can enter parts of the probe that are impossible to clean properly, potentially leaving behind bacteria that can infect the next patient.
BURNING OF ESOPHAGUS AND ILLNESS AFTER EXAM
If the transesophageal transducer is punctured, a high-level disinfectant can leak into the probe's shaft, where it is impossible to rinse properly. The high-level disinfectant can then go on to burn a patient's mouth and esophagus during a TEE exam, causing "black mouth" and illness after the procedure.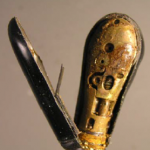 PROBE CORROSION AND FAILURE
High-level disinfectants that get into the TEE probe's shaft through a puncture, are both electrically conductive and highly corrosive and are capable of flowing to other parts of the probe - such as the transducer array and control housing in the tip of the probe1. If a high-level disinfectant gets into the TEE probe's insertion tube, it can cause either an immediate failure or failure after the disinfectant corrodes the probe's components over time and compromise the quality of your images.
EVEN A SMALL PUNCTURE CAN CAUSE EXTENSIVE DAMAGE AND HEALTH RISKS
Physical inspections are necessary and will find obvious damage, but even a small, inconspicuous puncture can cause extensive damage and health risks. An electrical leak test will help detect damage from any puncture, help to increase the life of your transducers, and decrease the risk of injury to a patient1.
PROTECT YOUR PATIENTS AND YOUR INVESTMENT
A patient's health is priceless, and transesophageal transducers are expensive. An electrical leak tester will help protect both.
A CUSTOMIZABLE LEAK TESTER
Each TEE transducer manufacturer establishes the upper leak test limits for their probes, which can be found in the probe's manual. Consider a leak tester that can be programmed to your manufacturer's specific limits.
The ULT-2020 has many manufacturers pre-set into its menu. For those that are not, you can create custom limits based on your manufacturer's range.
References