How ASTRA Improves Patient Safety and High-Level Disinfection Practices | CIVCO
The Joint Commission (TJC) was founded in 1951, with an inspiring vision to transform how people experience healthcare across all settings. In this new era, The Joint Commission would evaluate organizations and encourage them to continuously improve public healthcare by providing a patient experience that is safe, effective, and of the highest quality care and value. 1 One area The Joint Commission survey focuses on is the cleaning and disinfecting of ultrasound probes.
Understanding The Joint Commission's Patient Safety Standards
The Joint Commission's rules regarding high-level disinfection play a crucial role in ensuring patient safety within healthcare facilities. High-level disinfection is a critical process that serves to eliminate or inactivate virtually all microorganisms on medical instruments and devices, lowering the risk of healthcare-associated infections (HAIs) for patients. 2 By adhering to The Joint Commission's guidelines, healthcare providers are better able to maintain consistent and standardized practices for disinfection, reducing the chances of cross-contamination and the spread of infections, which in turn enhances patient safety and contributes to improved healthcare outcomes.
High-level disinfection is an area of review for The Joint Commission in its quest for healthcare safety. In 2017, The Joint Commission released an article encouraging leadership to oversee their facility's high-level disinfection processes and confirm that staff are trained properly and have adequate resources to perform critical tasks.3 It is recommended in the Joint Commission Resources Quality and Safety Network Resource Guide that organizations identify and address vulnerabilities by conducting a risk assessment pertaining to the high-level disinfection process. 4
The Joint Commission's Recommendations for High-Level Disinfection
The Joint Commission's Resource Guide lists out the "Top Five Identified Areas for Improvement" in High-Level Disinfection and Sterilization. 4 These include:
Lack of having/using current evidence-based guidelines for high-level disinfection
Lack of orientation, training, and competency of staff in the processes involved in handling devices that require high-level disinfection
Lack of quality control for high-level disinfection
Lack of participation and collaboration of staff in monitoring the high-level disinfection process
Lack of record keeping
Optimizing High-Level Disinfection Process with ASTRA
When it comes to preparing for TJC audits, it's important to recognize what the top priorities are for auditors. For years, ASTRA® Automated Ultrasound Probe Reprocessors for transesophageal (TEE) and endovaginal/endorectal probes have helped hospital departments perform high-level disinfection of ultrasound probes with confidence by automating the disinfection process and providing reliable electronic record-keeping of critical disinfection information. Such standardization can be a major help when preparing for TJC audits, serving to reduce both confusion and stress while also better ensuring uniform practice.
There are several other specific elements that one should keep in mind when planning for their upcoming TJC audits, including:
Evidence-Based Guidelines Compliance
Pick a compliant process and workflow, make it easy to comply with, and stick to it. Staff should have knowledge and access to these guidelines.4 A key to following evidence-based guidelines is finding a process and procedure that is easy for employees to incorporate into their various work settings, in turn helping to encourage compliance.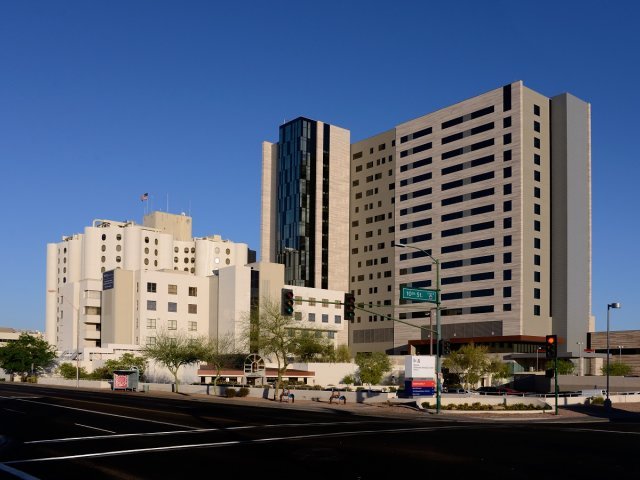 When asked about the evidence-based guidelines that TJC looks for, here's what John Papendorf, RDCS (AE), the Noninvasive Cardiology Imaging Supervisor and Technical Director from Banner University Medical Center in Phoenix, Arizona, said: "One of the things that Joint Commission is really big on is making sure that whatever process that you have, that you are sticking to it. If it is something that is safe and following a protocol, that you are at least following what you say you are going to follow. We put in policies that are workable for staff and that meet the needs that infection control needs us to follow. Having the ASTRA and some of the other products out there, it's made it easier in some regards. It's just finding something user-friendly." 5
Provide Orientation, Training, and Competency Assessment
The Joint Commission requires documentation of employee orientation, training, and competencies on the process of high-level disinfection.4 ASTRA training resources on CIVCO.com provide videos and supporting materials to train and assess staff on the use of ASTRA. After reviewing the resources, a quiz is provided, along with a training certificate that can be included in the documentation needed for TJC to prove staff competencies.
Karen Szczesniakowski, RDCS, RVT, BS, Cardiology Manager at AdventHealth Tampa commented, "Everyone requires probably a 15-minute tutorial on it (ASTRA). It prompts you for everything. It walks
you through each process. There are so many things that we must keep track of when you're working in a hospital and it's nice not having to keep track of when things must be changed, whether it be the HLD or the filters. You don't have to think about it; it tells you when it needs to be done. That's just one less thing that you need to worry about during your day, and you can concentrate on taking care of the patients. You don't want someone spending 20 minutes back there with each probe whenever you must
clean one. They go in, they clean the probe, they scan everything in and then they walk away." 6
Ensure Quality Control and Quality Monitoring Standards
The Joint Commission seeks to deter institutions from using non-validated methods of reprocessing reusable medical devices that could jeopardize the safety of patients.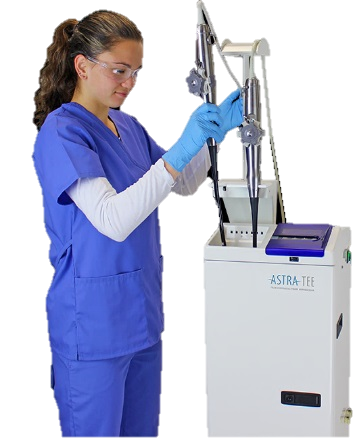 For that reason, TJC dictates that it is the user's responsibility to confirm the acceptable minimum required concentration (MRC) of the disinfection chemical, ensure the device is exposed to the high-level disinfectant (HLD) for an adequate amount of time, and check that the temperature of the HLD is appropriate for use. 4
TJC also states that it is the user's responsibility to accurately document key steps of the process. Chemical test strips should also be used to ensure that the disinfectant meets manufacturer standards for use.4
Karen of AdventHealth explains how ASTRA helps her facility meet these standards: "We have walked TJC through every step and I think that the automated aspect of it because it records, you can put who the tech was that cleaned it, you know what the probe is, you know what the temperature is, you know the time, the pass, the fail and it even documents whenever you change the solution. You know it kind of makes it dummy free. It takes out that human element of worrying about it or wondering if someone is cleaning something appropriately or not because it goes through that process. We've never had a problem with TJC but for us just using the ASTRA it's easier. It's very user-friendly." 6
Randy Knecht, BSRT, RDCS, RDMS, RVT, Ultrasound Manager of Oklahoma Heart Hospital, echoes these sentiments: "We had Joint Commission come last year and they did not have any questions about the process. They could show up at any time and we know we have a great process here. We have a great piece of equipment that is documenting all the stuff for us and they're going to love that it is consistent." 7
ASTRA is an acronym for Automated System for Transducer Reprocessing Applications. As its name implies, it automatically takes care of the steps that TJC takes into consideration when looking for standardization based on evidence-based guidelines.
Ensure Collaboration Between Department Supervisors and Infection Prevention
TJC recognizes that successful audits, when evaluating the high-level disinfection process of ultrasound probes, reflect a collaboration between department leadership and infection prevention and control practitioners. This partnership is essential, as infection prevention and control staff observe high-level disinfection procedures and have visibility in facility patient outcomes to identify failures in the process.4
Karen recounts her experience with her facility's infection control department: "The (ASTRA) machine tells you when to change the HLD because it prompts all of that, so infection control was ecstatic about it because you can't fudge it. It needs to be scanned so you can't take the bottle out and put it back in to get another week out of it. You're never going to overuse the HLD because the system will not allow you to rescan a scanned bottle. This was a kudos from infection control because they liked that. That we would always be on that 14-day cycle, that we would always be on the correct timing of it, that the machine would not allow you to continue to clean until you changed it so they like that. For us, it keeps us in check." 6
Karen continues: "I like the (ASTRA) system; it works phenomenal for us. We haven't had any infection issues with it. They stopped coming and swabbing our probes because when we went to the automated high-level disinfection cleaners, we didn't need it anymore. Infection control was just wasting their time swabbing the probes to look for anything." 6
Additional Benefits of ASTRA:
Automated Record Keeping
ASTRA's automated customizable log includes:
Date and time
Event
Operator
Probe ID
Rt/Lt chamber exam ID
Leak test results
MRC test results
HLD type
Temperature monitoring
The log can be easily downloaded and saved electronically for quick accessibility in the event of a Joint Commission audit.
When there are lapses in record keeping or incomprehensible, unorganized logs, the whole process can be diminished. This procedure should also provide documentation that the chemicals have been adequately tested and ensure a traceable path in the event of a recall. 4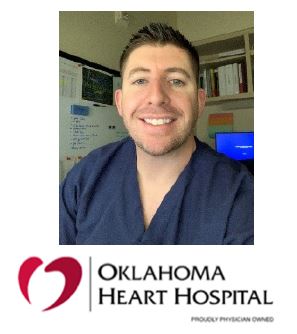 Randy Knecht, BSRT, RDCS, RDMS, RVT, Ultrasound Manager of Oklahoma Heart Hospital: "I know my handwriting is not the best along with a lot of them, so you've got what's not as clear. You've got errors in there. People look at the date wrong. That was the biggest thing, and this (ASTRA) is just automated, and it's just completely taken that out of the equation." 7
Quicker Disinfection
ASTRA can disinfect up to two probes at a time, taking between 10 to 15 minutes and allowing facilities to help twice as many patients.
John explains, "We were able to structure our time a little bit better around getting procedures done. That's been huge. We were able to do two cases at the same time essentially verses one at that time slot because you know what your turnaround time is going to be."
5
Karen also gives an example: "We went with the ASTRA just because of the function of the dual probe cleaning because that is such a time saver. We had 15 TEE procedures last Monday, it was twice as much as we have ever done, that was a record, but with being able to clean two TEEs at the same time, we were able to do that."
6
Significant Savings
ASTRA's compatibility with reusable high-level disinfectants reduces long-term costs for significant facility savings.
Karen estimates that AdventHealth Tampa saved approximately $7,500 in disinfectant alone last year.
6
Likewise, Randy from Oklahoma Heart Hospital shared: "Essentially the machine paid for itself over a year's time."
7
And John at Banner University Medical Center agreed, saying, "From a cost saving from other products, I think it did definitely. We do a lot more cases and that's really where the cost is benefiting."
5
Advance Your High-Level Disinfection Practices with ASTRA
The ASTRA automated high-level disinfection system provides confident compliance with its automated data logging and consumable tracking, as well as its clear and easy-to-follow steps to guide staff through the disinfection process. Its speed and HLD compatibility has shown to increase productivity and save facilities money, based on feedback from several existing ASTRA users.
Click here to learn more about how ASTRA can improve your department's process and save your facility money.
References
The Joint Commission - History of the Joint Commission: https://www.jointcommission.org/who-we-are/facts-about-the-joint-commission/history-of-the-joint-commission/
CDC - A Rational Approach to Disinfection and Sterilization: https://www.cdc.gov/infectioncontrol/guidelines/disinfection/rational-approach.html#:~:text=High%2Dlevel%20disinfection%20traditionally%20is,small%20numbers%20of%20bacterial%20spores
ECRI - Improperly Sterilized or Disinfected Equipment is a Growing Problem, Says Joint Commission: https://www.ecri.org/components/HRCAlerts/Pages/HRCAlerts053117_Joint.aspx
Joint Commission Resources Quality & Safety Network (JCRQSN) - Solutions Part 2: How to Meet the Most Challenging Medical Records and Infection Control Standards
Papendorf, RDCS (AE), John. "ASTRA Testimonial." Banner University Medical Center, Phoenix..
Szczesniakowski, RDCS, RVT, BS, Karen. "ASTRA Testimonial." AdventHealth Tampa, Tampa.
Knecht, Randy. "ASTRA Testimonial." Oklahoma Heart Hospital, Oklahoma