The Importance of Sterile Technique in Vascular Access Procedures
Why is it so important to practice sterile technique during vascular access procedures as a part of the overall infection control protocol in ultrasound? Before we help answer that question, let's look at a few numbers regarding some of the potential complications from vascular access procedures1,2:
Catheter-related bloodstream infection (CRBSI) is the most common cause of
health care-associated infection to the bloodstream
According to the U.S. CDC, 12-25% of patients who acquire CRBSI die;
many others have extended hospital stays and increased overall treatment costs
A total of 250,000 cases of BSIs have been estimated to occur annually in the U.S., resulting in as many as 62,000 deaths among patients
The cost of CRBSIs is between $33,000 and $44,000 in the general adult ICU, between $54,000 and $75,000 in the adult surgical ICU, and approximately $49,000 in the pediatric ICU
Finally, CRBSIs can lead to reimbursement that is over $26,000 less than costs
As our overall knowledge of infection control broadens, we now know that bacteria can be found on many surfaces during an ultrasound procedure.3 Some of these areas require low-level and or high-level disinfection among patients to reduce the risk of spreading hospital-acquired infection:
Our hands
Transducers
Patient beds
Ultrasound systems
Door handles
Gel
There has been extensive conversation around ultrasound gel as a potential source of nosocomial infections, and for good reason. Ultrasound gel is an important consideration for infection transmission and has been linked to numerous bacterial infection breakouts that have led to product recalls and even patient deaths.4,5
So how can we, as the operators of ultrasound systems during vascular access procedures reduce the risk of nosocomial (healthcare acquired) infections? There are several best practices, that when followed, have been shown to reduce the risk of spreading HAIs:
Use a sterile probe cover. This is a recommendation of the FDA, CDC, AIUM, ASUM, as well as probe manufacturers. 6-11 This is our first line of defense. Probe covers are designed as viral barriers and are manufactured with very stringent standards for optimum efficacy.
Though often used as ultrasound probe covers, condoms are not packaged as sterile13 and are not validated by the manufacturers for use as a probe cover, nor are they cleared by the FDA for use as an ultrasound probe cover."Bandages" with adhesives, such as Tegaderm™ and Opsite™ are also not cleared by the FDA as an ultrasound probe cover. These bandages were not designed for and have not been validated as a probe cover by the ultrasound manufacturers. Before using one of these devices, you should consult with your probe manufacturer to be sure it is an approved cover material for your transducer.12CIVCO offers a wide variety of sterile probe covers for use during vascular access procedures. The newest CIVCO technology applied to an ultrasound probe cover is PEELSafe offers gel-free application with an adhesive on the probe side of the cover, eliminating the need for gel during deployment. It leaves no residue (gel or adhesive) when removed from the probe after use. This helps to ensure the probe is effectively disinfected after the procedure, as residual gel or adhesive left on the probe has been shown to interfere with the effectiveness of the disinfection processes.14
Use sterile gel. If the gel is used during the procedure, it must be sterile, and it is imperative that the gel be wiped away prior to puncture. This helps to avoid introducing bacteria that may be in the gel from entering the bloodstream during the vascular access procedure.
Drape the ultrasound system. If the same person performing the CVC placement is also operating the ultrasound system, the system must be covered with a sterile drape.
The probe must be properly re-processed after each use. Guidelines vary on this. Some facilities only require low-level disinfection of ultrasound probes if a sterile cover was used and others require high-level disinfection after each use. Check with your infection control department for specific policies and procedures for your facility.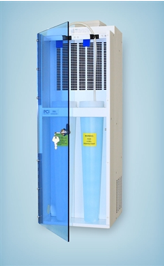 CIVCO offers a full line of disinfection solutions for both low-level and high-level disinfection procedures.
Regardless of the procedure, the fact that a needle or catheter is being introduced into the patient is a risk for infection and appropriate precautions should be taken. Each of us is responsible for following industry best practices to ensure we are doing everything possible to minimize the risk of nosocomial infections. This includes using products that are designed for use during procedures and FDA cleared for how we use them.
References
Hollenbeak C. "The cost of catheter-related bloodstream infections: implications for the value of prevention". J Infus Nurs. 2011 Sep-Oct;34(5):309-13
Gahlot R, Nigam C, Kumar V, Yadav G, Anupurba S. "Catheter-related bloodstream infections" Int J Crit Illn Inj Sci. 2014 Apr-Jun; 4(2): 162-167
Westerway S, Basseal J, Brockway, Hyett A, Carter D. "Potential Infection Control Risks Associated With Ultrasound Equipment - A Bacterial Perspective" Ultrasound in Med & Biol., Vol 43, No 2, 421-426 2017
Ramon Z. Shaban PhD, et al "Outbreak of health care-associated Burkholderia cenocepacia bacteremia and infection attributed to contaminated sterile gel used for central line insertion under ultrasound guidance and other procedures" American Journal of Infection Control 45 (2017) 954-8
Abdelfattah R, Al-Jumaah S, Al-Qahtani A, Al-Thawadi S,.Barron I, Al-Mofada S. "Outbreak of Burkholderia cepacia bacteraemia in a tertiary care centre due to contaminated ultrasound probe gel" Journal of Hospital Infection 98 (2018)
fda.gov/MedicalDevices/DeviceRegulationandGuidance/GuidanceDocuments/ucm089001.htm
W Rutala, David and the Healthcare Infection Control Practices Advisory Committee (HICPAC) "CDC Guideline for Disinfection and Sterilization in Healthcare Facilities" 2008
aium.org/officialStatements/57
Basseal J, Westerway S,Juraja M, van de Mortel T, Mc Auley T, Rippey J, et al. "Guidelines for reprocessing ultrasound transducers". Australas J Ultrasound Med 2017; 20: 30-40
gehealthcare.com/static/ge-transducers/GEHC-Guidelines-transducer_Cleaning_Disinfection_Guidelines.pdf
usa.philips.com/b-dam/b2bhc/master/whitepapers/Transducer%20Care%20Cleaning/Care%20and%20Cleaning%20Manuals/
453561820502a.pdf
https://scholar.sun.ac.za/bitstream/handle/10019.1/96595/sooraj_investigation_2015.pdf?sequence=1&isAllowed=y
cdc.gov/infectioncontrol/pdf/guidelines/disinfection-guidelines.pdf
COPYRIGHT © 2018. ALL RIGHTS RESERVED. CIVCO IS A REGISTERED TRADEMARK OF CIVCO MEDICAL SOLUTIONS. ENVISION IS A TRADEMARK OF CIVCO. ALL OTHER TRADEMARKS ARE THE PROPERTY OF THEIR RESPECTIVE OWNERS. ALL PRODUCTS MAY NOT BE LICENSED IN ACCORDANCE WITH CANADIAN LAW. 2018M-3068 REV 1