Can a Probe Cover Simplify Your Workflow for Ultrasound Guided Procedures?
When ultrasound is used for point-of-care needle guided procedures, including vascular access or regional anesthesia, it is recommended by the FDA and the CDC that a single-use, disposable probe cover be used on the ultrasound probe for each procedure.
The FDA says

"Probes used in semi-critical applications should be sterilized between uses whenever feasible, but high-level disinfection is minimally acceptable. In addition, the use of a sheath is recommended for every semi-critical use of the probe."1
Similarly, the CDC recommends

"This guideline proposes use of a new condom/probe cover for the probe for each patient, and because condoms/probe covers can fail, the probe also should be high-level disinfected."2
When considering a probe cover for point-of-care procedures, there are several criteria one could consider:
Quality and type of material: ease of use, patient comfort, latex vs. non-latex, effective viral barrier, etc.
Configuration on probe: size, length, width
Sterile vs. non-sterile
Deployment and removal of cover: workflow, set-up, and clean-up time
Some criteria, such as material type and sterility, are important depending on the patient and/or procedure, and other probe cover features provide direct benefits to the clinician. For point-of-care procedures specifically, simplified operational workflow and decreased set-up and clean-up time are valuable benefits to busy healthcare professionals.

CIVCO Medical Solutions, a leader in infection control, has recently launched a new probe cover technology to provide clinicians with these added benefits. Intuit™ probe covers are now available with PEELSafe Advantage™, a gel-free adhesive pad that applies directly to the ultrasound probe.
The elimination of gel inside the probe cover:
Streamlines workflow and saves time by eliminating a common step in procedure set-up
Simplifies clean-up - no need to remove gel or adhesive from the ultrasound probe, and no residue will remain on the probe
Provides distortion-free imaging while scanning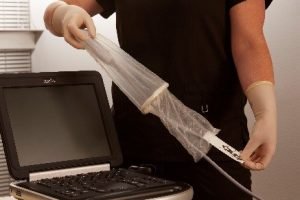 The Intuit probe covers with PEELSafe Advantage continue to provide the quality customers trust from CIVCO:
Sterile, viral barrier
Intuitive design
Easy to use


Intuit probe covers with PEELSafe Advantage are offered in two user-friendly configurations: Intuit Roll™ and Intuit SnapFIT™. Both are made with our premium CIV-Flex™ material, which is not made with natural rubber latex.
Deploying a probe cover with the new PEELSafe Advantage technology is easy and intuitive, as demonstrated with the Intuit Roll:
Peel away the liner to expose the PEELSafe Advantage adhesive pad.
Place the ultrasound probe face directly on the adhesive pad.
Pull the probe cover's tab perpendicular to the face of the ultrasound probe to deploy.
An elastic band will automatically deploy as the probe cover unrolls. The clinician may place additional bands if needed.
Reposition the probe cover to easily eliminate wrinkles and remove air bubbles from the face of the ultrasound probe.
To view the entire probe cover workflow video:
When the procedure is complete, simply peel the cover off to reveal a gel-free, residue-free ultrasound probe.
Intuit probe covers with PEELSafe Advantage give users unique value in time savings and improved workflow while providing a sterile viral barrier to protect patients and clinicians. To learn whether CIVCO's Intuit probe covers with PEELSafe Advantage will benefit your facility, call your Customer Consultant at 800-445-6741.
References
www.fda.gov/MedicalDevices/DeviceRegulationandGuidance/GuidanceDocuments/ucm089001.htm
W Rutala, David and the Healthcare Infection Control Practices Advisory Committee (HICPAC) "CDC Guideline for Disinfection and Sterilization in Healthcare Facilities" 2008
COPYRIGHT ©2018. ALL RIGHTS RESERVED. CIVCO IS A REGISTERED TRADEMARK OF CIVCO MEDICAL SOLUTIONS. INTUIT, PEELSAFE ADVANTAGE, AND CIV-FLEX ARE TRADEMARKS OF CIVCO. ALL OTHER TRADEMARKS ARE THE PROPERTY OF THEIR RESPECTIVE OWNERS. ALL PRODUCTS MAY NOT BE LICENSED IN ACCORDANCE WITH CANADIAN LAW. 2018M-3038 REV 1