Providing an (HLD) Solution to the Problem of HPV Probe Transmission
42 million. That's the current number of Americans infected with human papillomavirus (or as it's commonly referred to, "HPV"). Spread through close skin-to-skin contact, HPV is among the most common sexually transmitted infections, with upwards of 80% of sexually active men and women likely to be infected with the virus at some point during their lives. 1 2
The bad news? There is currently no known cure or treatment for HPV, meaning that if the virus is contracted, it's not likely to disappear, at least for the foreseeable future. The good news? In 9 out of 10 infections, HPV will disappear on its own within two years, without any serious health repercussions, and visually-speaking, is frequently not more noticeable than a wart.1 2
But what you might not know about HPV is that skin-to-skin contact is not the only way that the virus can be transmitted.
Improper Use of Medical Devices Could Transmit HPV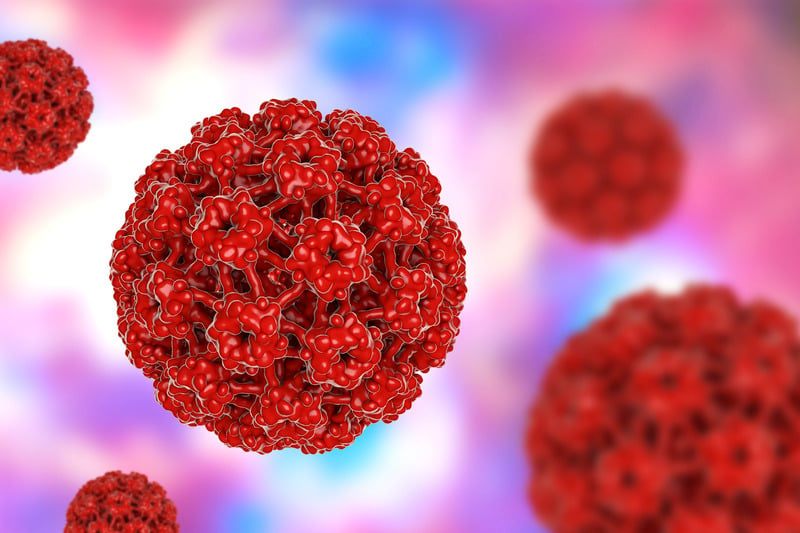 That's right - the HPV virus can also contaminate, and be transmitted from, ultrasound transducers. Study 3 after study 4 after study 5 have proven that HPV has the potential to be transmitted via a wide array of probe types, with transvaginal, endovaginal, and endorectal transducers all having demonstrated documented susceptibility to the virus.
(Maintaining and abiding by top disinfection standards and guidelines can help your intracavitary ultrasound probes avoid cross-contamination. Covering the transducer with a sterile, validated probe cover during the procedure, 6 following the Spaulding Classification in high-level disinfecting the device post-procedure, 7 and adequately transporting and/or storing the transducer after disinfection 6 are all steps that can play a crucial role in ensuring the integrity of your transducers.)
If proper measures are not taken to protect the patient and the transducer from cross-contamination, HPV transmission is a risk of intracavitary ultrasound procedures. Of course, this raises an obvious question: if an ultrasound probe can transmit HPV, then can the virus also be neutralized from the transducer, post-contamination?
Thankfully, the answer is "yes." Ultrasound probes contaminated with the HPV virus can be thoroughly disinfected, to the point of near-complete bacterial neutralization on the transducer's surface.
How is this done? Three words: "High-level disinfection."
High-Level Disinfection and HPV
High-level disinfection is a chemical process that sees the complete elimination of all microorganisms in or on an instrument, with the exception of a small number of bacterial spores. 7 Performed either manually (by-hand) or via automatic means, high-level disinfection is conducted with highly powerful disinfectant solutions, which ultrasound probes are submerged within until full disinfection is achieved.
There are various high-level disinfectant (HLD) solutions that healthcare workers can choose from and utilize to help neutralize viruses - including HPV - from their transducers. Two such options are Ortho-phthalaldehyde (OPA) and hydrogen peroxide.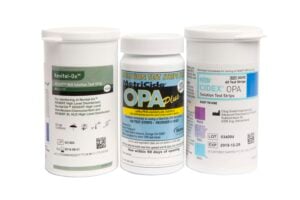 OPA and hydrogen peroxide are two fast-acting disinfectant solutions that contain effective microbiocidal activity. With excellent materials compatibility, OPA and hydrogen peroxide are currently two of the most popular HLD solutions, and over their 20+ years each on the market, have demonstrated efficacy against a wide range of microorganisms, including Escherichia coli, Staphylococcus aureus, Pseudomonas aeruginosa, Staph. Aerus, and Ps. aeruginosa, as well as various yeasts and fungi. 8 9 10
Several recent studies have examined the effectiveness of OPA and hydrogen peroxide in neutralizing HPV, with two, in particular, having provided considerable insight into the solutions' efficacy against the virus. One study, published in 2021, 11 took a direct approach in determining the susceptibility of HPV to clinical disinfectants (in particular, aldehyde-based solutions, such as OPA, and hydrogen peroxide), with the authors aiming to create a definitive framework for testing and research that evaluated the dynamics of HPV viral transmission and neutralization with regards to the disinfectant solution. Ultimately, the study found that both OPA and hydrogen peroxide proved an effective inactivator of HPV. Meanwhile, another 2021 12 study examined a series of claims asserting that aldehyde-based high-level disinfectants - namely OPA - may be ineffective at inactivating HPV infectivity on medical devices. Through their research, the authors not only determined that the claims themselves possessed little standardized legitimacy, but on the contrary, concluded that OPA is a decidedly powerful disinfectant solution for minimizing the risk of HPV transmission in associated medical settings and equipment.
OPA and Hydrogen Peroxide: Effective Tools for Fighting HPV:
Bottom line? When it comes to eliminating HPV from your ultrasound probes, OPA and hydrogen peroxide are strong options, delivering powerful and thorough microbiocidal activity that serve as potent neutralizers against the HPV virus and other bacterial microorganisms. In our recently released white paper (which you can read here), we break down the studies above even further, outlining the exact research methodologies, testing protocols, and sample collection that the researchers undertook to examine OPA and hydrogen peroxide's efficacy against HPV. It's a fascinating read that shines a light on exactly why OPA and hydrogen peroxide are so effective as high-level disinfectant solutions.
One of the myriad reasons why OPA and hydrogen peroxide are so effective as HLDs? Their compatibility with both manual and automated disinfection systems - namely, ASTRA.
ASTRA Is Compatible with OPA and Hydrogen Peroxide:
ASTRA TEE and ASTRA VR are automated probe reprocessors that are FDA-cleared to provide high-level disinfection of transesophageal and vaginal/rectal probes (including bi-plane probes up to 16 inches long). Featuring optimized speed and enhanced logging of disinfection consumables, CIVCO's ASTRA systems are designed to help hospital departments perform high-level disinfection confidently, providing a safe, streamlined workflow that is cost-effective and fully compliant with all Joint Commission standards.
Of course, one of ASTRA's most exciting features is its compatibility with a variety of industry-leading high-level disinfectants, including popular OPA-based solutions like Cidex®OPA and MetriCide™ OPA Plus and hydrogen peroxide-based solutions like UltrOx™ (hydrogen peroxide) and Revital-Ox™ RESERT® (hydrogen peroxide), all of which have proven efficacy against a wide range of pathogenic microorganisms (including HPV). Even better? These solutions are 100% reusable, helping your facility to save money and reduce long-term operating costs.
To learn more about how ASTRA can improve your disinfection process, visit here. (And for even further safeguarding against HPV, consider utilizing CIVCO's Ultrasound Probe Covers, which serve as effective viral barriers for protection against a wide array of bacteria, bloodborne pathogen, and viruses, including HPV).
References:
CDC - HPV Infection.
National Foundation for Infectious Diseases. HPV (Human Papillomavirus)
Hamm R. F. Combs C. A. & Davidson C. M. (n.d.). Society for maternal-fetal medicine special statement: reducing the risk of transmitting infection by transvaginal ultrasound examination. American Journal of Obstetrics and Gynecology B2-B6.
Casalegno J.-sebastien Le Bail Carval K. Eibach D. Valdeyron M.-L. Lamblin G. Jacquemoud H. Mellier G. Lina B. Gaucherand P. & Mathevet P. (2012). High risk hpv contamination of endocavity vaginal ultrasound probes: an underestimated route of nosocomial infection? Plos One e48137-e48137.
Kac G. Podglajen I. Si-Mohamed A. Rodi A. Grataloup C. & Meyer G. (2010). Evaluation of ultraviolet c for disinfection of endocavitary ultrasound transducers persistently contaminated despite probe covers. Infection Control and Hospital Epidemiology 165-70. https://doi.org/10.1086/649794
AIUM Official Statements 57. "Guidelines for Cleaning and Preparing External - and Internal-Use Ultrasound Transducers and Equipment Between Patients as well as Safe Handling and Use of Ultrasound Coupling Gel."
CDC - A Rational Approach to Disinfection and Sterilization (Guideline for Disinfection and Sterilization in Healthcare Facilities (2008))
Walsh S. E. Maillard J. Y. & Russell A. D. (1999). Ortho-phthalaldehyde: a possible alternative to glutaraldehyde for high level disinfection. Journal of Applied Microbiology 1039-46.
CDC -Guideline for Disinfection and Sterilization in Healthcare Facilities (2008)
CDC - Chemical Disinfectants (Guideline for Disinfection and Sterilization in Healthcare Facilities (2008))
Egawa N. Shiraz A. Crawford R. Saunders-Wood T. Yarwood J. Rogers M. Sharma A. Eichenbaum G. & Doorbar J. (2021). Dynamics of papillomavirus in vivo disease formation & susceptibility to high-level disinfection-implications for transmission in clinical settings. Ebiomedicine 103177-103177.
Ozbun M. A. Bondu V. Patterson N. A. Sterk R. T. Waxman A. G. Bennett E. C. McKee R. Sharma A. Yarwood J. & Rogers M. (n.d.). Infectious titres of human papillomaviruses (hpvs) in patient lesions methodological considerations in evaluating hpv infectivity and implications for the efficacy of high-level disinfectants. Ebiomedicine.
COPYRIGHT © 2022. ALL RIGHTS RESERVED. CIVCO IS A REGISTERED TRADEMARK OF CIVCO MEDICAL SOLUTIONS. ALL OTHER TRADEMARKS ARE THE PROPERTY OF THEIR RESPECTIVE OWNERS. ALL PRODUCTS MAY NOT BE LICENSED IN ACCORDANCE WITH CANADIAN LAW. PRINTED IN USA. 2022M-3319 REV. 1