Safely Using Ultrasound for Vascular Access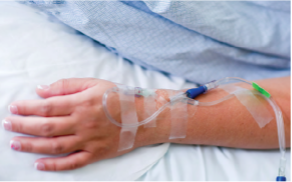 Ultrasound is often used by vascular access teams and nurses to guide certain vascular access procedures, such as placing PICC lines or difficult access peripheral IVs (PIVs). Improving patient safety and outcomes is needed for vascular access interventions, and there are other specific considerations when using ultrasound.
Infection prevention in vascular access is a widely discussed topic, and this post will outline research and guidelines specific to ultrasound-guided procedures.
ECRI Top 10 Patient Safety Concerns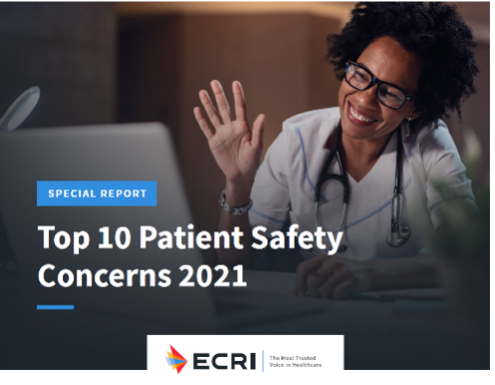 Peripheral intravenous catheters (PIVCs) are the most common invasive devices used with inpatients in the United States, and the infection and non-infection rates associated with these interventions led the Emergency Care Research Institute (ECRI) to list peripheral vascular harm as one of the "Top 10 Patient Safety Concerns" in 2021.1
Infections caused by PIVCs can result in intensive care, extended hospital stays or antibiotic use, or in extreme situations, death. Non-infection events, such as phlebitis, infiltration, and burns are also very common with PIVCs.
According to ECRI, up to 69% of peripheral intravenous catheters are removed prior to completion due to failure or patient infection.
ECRI recommends collaborative actions between infection prevention, vascular access teams and nurses, and hospital leadership to track and prevent patient harm caused by peripheral intravenous catheters, including:
Provide continued education and assessment regarding proper intravenous catheter use
The audit process measures and promote reporting of events and near misses
Set a target of PIVC placement with as few attempts as possible, with a goal of no more than two attempts
Consider the use of sterile techniques and sterile components
Research and acquire proven technology to assist with proper catheter securement
Implement appropriate use of ultrasound technology
One resource for facilities looking to improve vascular access safety is the Infusion Nurses Society (INS) Infusion Therapy Standards of Practice - the 8th edition of which was released in 2021. These standards are updated every five years to provide a comprehensive standard for improving patient care during infusion interventions.2

Within the Standards is a specific section on vascular visualization to aid in the success of intravenous catheter insertions using ultrasound. Research continues to demonstrate how powerful ultrasound is in helping vascular access teams and nurses improve the placement of peripheral catheters.3,4
Optimizing the use of ultrasound in vascular access is important to achieve safer patient outcomes. Adopting processes and product solutions that minimize contamination risks and adequately training clinicians on those processes can help prevent infections during ultrasound-guided interventions.
Steps to Minimize Infection Risks from Ultrasound-Guided IVs
Aseptic technique is a common standard used in vascular access to reduce contamination risks, but studies suggest inconsistent safety practices and clinician training can lead to patient infections. Research shows vascular access clinicians report definitive or possible breaks in aseptic technique during clean-up in 63% of ultrasound-guided peripheral IVs.5
Variations in aseptic technique or a lack of standardized practice can result in contamination of the skin, where bacteria can colonize the insertion site, catheter tips, and bloodstream. Sixty percent of catheter-related bloodstream infections (CRBSIs) are associated with skin flora, and skin contamination is a concern for peripheral sites as well as central.6
In response to persistent infection rates as a result of vascular interventions, there are alternative and innovative solutions clinicians should consider to help reduce patient risk:
Use of a sterile ultrasound probe cover
Cover the transducer with a viral barrier validated for ultrasound
Eliminate the use of ultrasound gel for ultrasound-guided insertions
Use Sterile Ultrasound Probe Covers
While there continues to be a discussion among clinicians and professional societies about aseptic, sterile, and/or clean approaches when performing ultrasound-guided IV (USGIV) procedures, the INS, AIUM, and ACEP recommend a sterile transducer cover:
Choose Viral Barriers for Ultrasound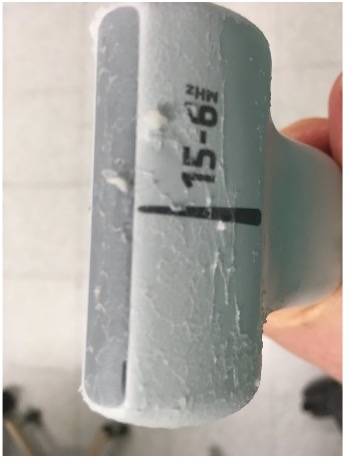 In addition to ensuring a clean or sterile field for ultrasound-guided intravenous procedures, clinicians should consider the type of cover they use to protect the patient and ultrasound transducer. Many vascular access specialists, nurses, or emergency physicians will use a transparent film dressing or bandage (Tegaderm'Ñ¢, OPSITE, etc.) to cover the ultrasound transducer used to guide the insertion of an intravenous catheter.
While adhesive films are designed for device securement and wound management, they are not indicated for use as ultrasound probe covers9,10 and can cause damage to transducers. In recent years, some ultrasound manufacturers have issued direct statements or added language to their instructions for use (IFU) warning against the use of transparent film with ultrasound probes.
Fujifilm SonoSite, "Customer Use Statement regarding Tegaderm with SonoSite Transducers"
"Tegaderm...is not indicated for use by the manufacturer, 3M, as a sterile transducer cover/sheath. Due to numerous factors involved, SonoSite does not recommend Tegaderm as an alternative option to a sterile cover for our transducers and only recommends sterile covers that are indicated for such use by the respective manufacturer."11
Philips, "Disinfectants and Cleaning Solutions for Ultrasound Systems and Transducers"
"Do not apply adhesive films, such as Tegaderm, to the transducer lens. Application of such films can damage the lens."12
When choosing a probe cover for vascular interventions, ensure the product is approved as an ultrasound viral barrier and is tested and validated with major ultrasound manufacturers.
CIVCO probe covers serve as an effective viral barrier to protect against human viruses 27 nanometers (nm) and above, bacteria, and bloodborne pathogens.13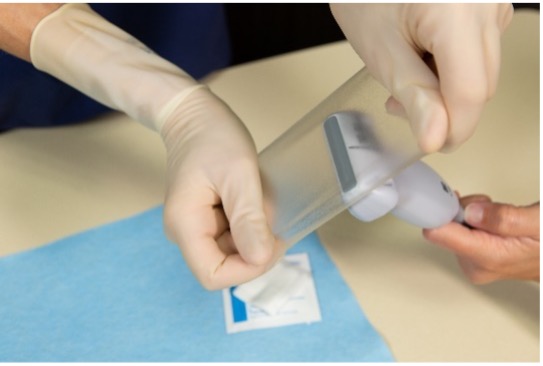 CIVCO also partners with major ultrasound manufacturers to validate our covers will not affect their transducers. Per SonoSite, "As an ultrasound transducer manufacturer, SonoSite is responsible for accurately representing acceptable options for sterile covers in the event that it is needed by a clinician. Sterile covers manufactured by CIVCO, for example, are designed, manufactured, and cleared for the specific use of providing a physical sterile barrier between the transducer head and patient's skin."11
Eliminate Ultrasound Gel
Ultrasound gel is ubiquitous with the use of ultrasound technology. However, when studying factors that contribute to the spread of healthcare-associated infections, ultrasound gel has been shown to be a source of contamination.
An earlier post details several studies and cases of ultrasound gel leading to patient infections:
To manage the infection risks of ultrasound gel during ultrasound-guided interventions, here are some tips: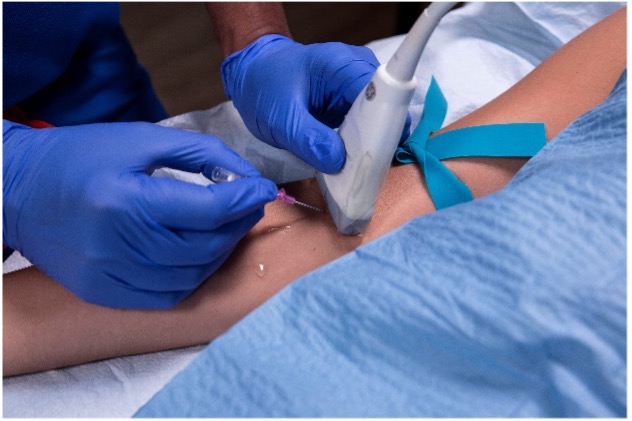 Consider removing ultrasound gel altogether.
Envision'Ñ¢ gel-free probe covers and scanning pads are available as sterile ultrasound viral barriers. Envision secures to the ultrasound probe using a safe silicone adhesive, and then a sterile liquid activates the hydrophilic coating of the Envision cover or pad that is used to scan the patient. No ultrasound gel is needed on the inside or outside of the Envision cover or pad.
Using Envision as a viral barrier for ultrasound-guided intravenous procedures, such as PIVs, CVCs or PICCs, reduces the risk of contamination to the patient since no gel is introduced at the insertion site. Eliminating gel from the intervention also helps with probe and patient clean-up, as well as allows for improved adherence of transparent dressings to the patient's skin.5
2. If the use of gel is necessary, consider recommendations to minimize infection risk:
Even with professional guidance and clinical education and training, harm caused by peripheral IVs continues to be one of the top patient safety concerns in the United States. Utilizing ultrasound technology for vascular access interventions can help improve success rates.
However, infection prevention must be a core aspect of the training and use of ultrasound for vascular procedures. These infection prevention steps include:
using a sterile, single-use probe cover that's
validated as an ultrasound viral barrier, as well as
considering the removal of ultrasound gel with the help of Envision covers and pads
References
Emergency Care Research Institute (ECRI), "Top 10 Patient Safety Concerns," 2021, https://www.ecri.org/top-10-patient-safety-concerns-2021
Infusion Nurses Society (INS), Infusion Therapy Standards of Practice, 8th edition, 2021, https://www.ins1.org/publications/infusion-therapy-standards-of-practice/
Gorski, Lisa A., MS, RN, HHCNS-BC, CRNI, FAAN, "A Look at 2021 Infusion Therapy Standards of Practice," page 6, https://www.nursingcenter.com/wkhlrp/Handlers/articleContent.pdf?key=pdf_01845097-202103000-00002
Gottlieb, Michael, MD, et al. "Ultrasound-Guided Peripheral Intravenous Line Placement: A Narrative Review of Evidence-based Best Practices," The Western Journal of Emergency Medicine, https://www.ncbi.nlm.nih.gov/pmc/articles/PMC5654873/
Moureau, Nancy and Gilbert, Gregory. "Survey of Ultrasound-Guided Peripheral Intravenous Practices: A Report of Supply Usage and Variability Between Clinical Roles and Departments," Journal of the Association for Vascular Access, 2020. https://meridian.allenpress.com/java/article/25/3/28/442553/Survey-of-Ultrasound-Guided-Peripheral-Intravenous
Choudhury, Abu, MD, et al. "Skin colonization at peripheral catheter insertion sites increases the risk of colonization and infection," American Journal of Infection Control, 2019:(47)1484'àí1488; https://www.ajicjournal.org/article/S0196-6553(19)30615-7/fulltext
American Institute of Ultrasound in Medicine (AIUM), "Practice Parameter for the Use of Ultrasound to Guide Vascular Access Procedures," 2019. https://www.aium.org/resources/guidelines/usgva.pdf
American College of Emergency Physicians (ACEP), "Guideline for Ultrasound Transducer Cleaning & Disinfection," 2021. https://www.acep.org/globalassets/new-pdfs/policy-statements/guideline-for-ultrasound-transducer-cleaning-and-disinfection.pdf
Smith & Nephew, OPSITE product page; https://www.smith-nephew.com/professional/products/advanced-wound-management/opsite/
3M'Ñ¢, Tegaderm'Ñ¢ product information, https://multimedia.3m.com/mws/media/498994O/tegaderm-transparent-film-dressing-package-insert-english.pdf
Fujifilm SonoSite, "Customer Use Statement regarding Tegaderm with SonoSite Transducers," https://www.sonosite.com/sites/default/files/M06645%20Rev%20A_Customer%20Use%20Statment%20Tegaderm_Sept%202018.pdf
Philips, "Disinfectants and Cleaning Solutions for Ultrasound Systems and Transducers," https://www.usa.philips.com/c-dam/b2bhc/master/whitepapers/ultrasound-care-and-cleaning/disinfectant-tables-manuals/dt-us.pdf
CIVCO Ultrasound Transducer Covers Serve as Effective Viral Barrier, https://playbook.civco.com/up-f/mm/2016r-2923_civco_covers_effective_viral_barrier1.pdf
Shaban R, et al "Outbreak of health care-associated Burkholderia cenocepacia bacteremia and infection attributed to contaminated sterile gel used for central line insertion under ultrasound guidance and other procedures," American Journal of Infection Control. 45 (2017) 954-8.
Abdelfattah R, Aljumaah S, Alqahtani A, Althawadi S, Barron I, Almofada S. "Outbreak of Burkholderia cepacia bacteraemia in a tertiary care centre due to contaminated ultrasound probe gel." Journal of Hospital Infection, 2017. pii: S0195-6701(17)30516-9.
Nannini, Esteban C., et al. "Polyclonal Outbreak of Bacteremia Caused by Burkholderia Cepacia Complex and the Presumptive Role of Ultrasound Gel." The Brazilian Journal of Infectious Diseases, vol. 19, no. 5, Sept. 2015, pp. 543-545, 10.1016/j.bjid.2015.06.009 www.sciencedirect.com/science/article/pii/S1413867015001324
Centers for Disease Control and Prevention, "Pseudomonas aeruginosa respiratory tract infections associated with contaminated ultrasound gel used for transesophageal echocardiography - Michigan, December 2011-January 2012." MMWR Morb Mortal Wkly Rep. 2012 Apr 20;61:262-4. https://www.cdc.gov/mmwr/preview/mmwrhtml/mm6115a3.htm
Society of Diagnostic Medical Sonography (SDMS), "Guidelines for Infection Prevention and Control in Sonography," https://www.sdms.org/docs/default-source/Resources/8756479320933256.pdf
Oleszkowicz SC, Chittick P, Russo V, Keller P, Sims M, Band J. "Infections Associated with Use of Ultrasound Transmission Gel: Proposed Guidelines to Minimize Risk." Infection Control and Hospital Epidemiology, Dec. 2012, vol. 33, no. 12. https://icap.nebraskamed.com/wp-content/uploads/sites/2/2019/06/Ultrasound-Gel-2013.pdf
COPYRIGHT ©2021. ALL RIGHTS RESERVED. CIVCO IS A REGISTERED TRADEMARK OF CIVCO MEDICAL SOLUTIONS. ENVISION IS A TRADEMARK OF CIVCO. ALL OTHER TRADEMARKS ARE THE PROPERTY OF THEIR RESPECTIVE OWNERS. ALL PRODUCTS MAY NOT BE LICENSED IN ACCORDANCE WITH CANADIAN LAW. 2021M-3243 REV 1