What to Consider When Selecting Probe Covers for Ultrasound Procedures
While selecting the appropriate probe cover for your ultrasound examination may seem a rather simple task, there are several key points to consider in the process. Let's start by deciding when probe covers are necessary, based on industry recommendations, usage classifications, and cover types.
Follow Industry Standards


The Federal Drug Administration (FDA)* says "the use of a sheath is recommended for every semi-critical use of the probe.1" The Centers for Disease Control (CDC)** says "This guideline proposes the use of a new condom/probe cover for the probe for each patient.2" And, ultrasound probe manufacturers wholly recommend the use of a single-use probe cover for all semi-critical uses of ultrasound probes3,4. The American Institute of Ultrasound in Medicine (AIUM) and The Society of Diagnostic Medical Sonographers (SDMS) recommend following the guidelines set forth by the CDC.
*Appendix D: Cleaning, Disinfection, and Sterilization
**Pages 18,19
Determine Proper Usage
A semi-critical use of an ultrasound probe would include all endocavity uses such as transvaginal, transrectal, and transesophageal ultrasound examinations. Also considered a semi-critical usage is the use of general purpose probes during invasive procedures, such as a biopsy or other needle-guided procedures where: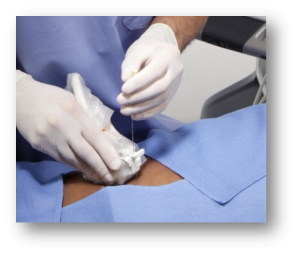 there is a high likelihood that the probe could become contaminated by blood or other bodily fluids; or
there is non-intact skin such as a healing operative scar or open wound; or
there is a patient that may be a high risk to transmit disease from contact
If an ultrasound probe will be used as a semi-critical device, a probe cover is recommended for the examination or procedure.
Selecting the Appropriate Probe Cover
Now that we can agree a probe cover is necessary for all endocavity and other semi-critical examinations, the next question to ask is which ultrasound probe cover to use.
Is there one better than the other?
Is one material better than the other?
How tight does it need to fit?
In the end, many of these decisions are personal preferences. Let's look at what is available.
Sterile Versus Non-Sterile
One of the first considerations is often whether to choose a sterile or non-sterile probe cover. While endocavity examinations are a non-sterile environment and therefore do not require a sterile cover, many needle-guided procedures such as biopsy or ablation procedures call for a sterile cover.
There are several styles of sterile ultrasound probe covers available. As is often the case, personal preferences will often determine which cover you ultimately choose.
Material Type
Another consideration is whether to choose materials made with natural rubber latex versus those not made with natural rubber latex. Easier said, latex or non-latex.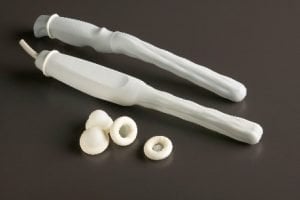 If your patient has a known or suspected latex allergy or sensitivity, then the obvious choice is to use a probe cover not made with natural rubber latex. If you prefer the feel and fit of a latex cover but want to use non-latex materials, CIVCO's NeoGuard™ line of probe covers has the feel and fit of latex but is made of materials that do not contain natural rubber latex. NeoGuard covers are available for endocavity probes as well as general-purpose probes.
Additional non-latex probe cover options include CIVCO's CIV-Flex™ covers that are quite popular for OB/GYN procedures, as well as regional anesthesia and invasive procedures such as biopsies and ablations.
Condoms Versus Covers
One of the final considerations is whether to use a condom or a commercially available ultrasound probe cover. While there have been very few studies that directly compare the effectiveness of covers vs. condoms, it is important to note that the Acceptable Quality Limits (AQL) for the manufacture of latex condoms is equivalent to that of commercially available latex covers5, and the AQL for condoms not made with natural rubber latex is essentially equivalent to that of commercially available probe covers that are not made of natural rubber latex.
If you would like additional assistance as to which probe cover to use, contact your CIVCO customer consultant at (800) 445-6741 or visit CIVCO.com to receive a complimentary selection of ultrasound probe covers to evaluate in your practice.
References
"Guidance for Industry and FDA Staff - Information for Manufacturers Seeking Marketing Clearance of Diagnostic Ultrasound Systems and Transducers." (September 10, 2015). https://www.fda.gov/regulatory-information/search-fda-guidance-documents/marketing-clearance-diagnostic-ultrasound-systems-and-transducers
CDC Guideline for Disinfection and Sterilization in Healthcare Facilities, 2008 William A. Rutala, Ph.D., M.P.H.1,2, David J. Weber, M.D., M.P.H.1,2, and the Healthcare Infection Control Practices Advisory Committee (HICPAC)
gehealthcare.com/static/ge-transducers/GEHC-Guidelines-Transducer_Cleaning_Disinfection_Guidelines.pdf
usa.philips.com/b-dam/b2bhc/master/whitepapers/Transducer%20Care%20Cleaning/Care%20and%20leaning%20Manuals/
453561820502a.pdf
5 x 20, 26 x 20, & 2 x 20cm latex ultrasound probe covers only
COPYRIGHT © 2017. ALL RIGHTS RESERVED. CIVCO IS A REGISTERED TRADEMARK OF CIVCO MEDICAL SOLUTIONS. NEOGUARD AND CIV-FLEX ARE TRADEMARKS OF CIVCO. ALL OTHER TRADEMARKS ARE THE PROPERTY OF THEIR RESPECTIVE OWNERS. ALL PRODUCTS MAY NOT BE LICENSED IN ACCORDANCE WITH CANADIAN LAW. 2017M-2984 REV 1