Top Tips for High-Level Disinfection of Ultrasound Probes - Part I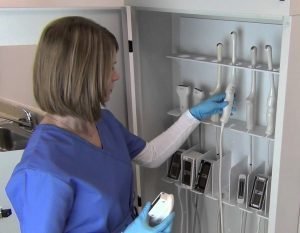 CIVCO's blog will provide you with a wealth of information to help you implement best practices for high-level disinfection in ultrasound. These educational tips can be enhanced by our monthly webinar series. Visit CIVCO.com/conferences to view our upcoming CME webinars.
In each series, we will review a broad high-level disinfection guideline to promote a basic understanding of best practices. Thereafter, we will hone in on a few specific areas of concern that are frequently asked during our webinars or by our customers. As always, we will provide sources to substantiate our tips.
Since ultrasound probe cleaning practices are constantly evolving, healthcare workers should always acquire up-to-date information for the products and practices they use. In addition, always refer to the manufacturer's instructions for use (IFU), labels for use, and your facility's infection control policies.
1. An instrument that comes in contact with a mucous membrane or non-intact skin is a "semi-critical" device and requires high-level disinfection after each procedure.
"Semi-critical items contact mucous membranes or non-intact skin. This category includes respiratory therapy and anesthesia equipment, some endoscopes, laryngoscope blades, esophageal manometry probes, cystoscopes, anorectal manometry catheters, and diaphragm fitting rings...Provide, at a minimum, high-level disinfection for semi-critical patient-care equipment (e.g., gastrointestinal endoscopes, endotracheal tubes, anesthesia breathing circuits, and respiratory therapy equipment) that touches either mucous membranes or non-intact skin."
CDC Guideline for Disinfection and Sterilization in Healthcare Facilities, 2008, page 83.
"Other probes such as rectal (and vaginal), cryosurgical, and transesophageal probes or devices also should be high-level disinfected between patients."
CDC Guideline for Disinfection and Sterilization in Healthcare Facilities, 2008, page 19.
"Semi-critical items minimally require high-level disinfection using chemical disinfectants. Glutaraldehyde, hydrogen peroxide, OPA (ortho-phthalaldehyde), and peracetic acid with hydrogen peroxide are cleared by the Food and Drug Administration (FDA) and are dependable high-level disinfectants provided the factors influencing germicidal procedures are met."
CDC Guideline for Disinfection and Sterilization in Healthcare Facilities, 2008, page 10.
Spaulding
Classification
Definition
Example
Disinfection
Critical
Object enters sterile tissue
Surgical Instruments
Sterilization
Semi-Critical
Object contacts mucous membranes or non-intact skin
Endocavity Probes, Endoscopes
High-Level Disinfection
Non-Critical
Object contacts intact skin
Blood Pressure Cuffs
Low- or Mid-Level Disinfection
2. Store ultrasound probes vertically and in a cabinet or clean environment.
The Joint Commission (TJC) has defined guidelines on storage for semi-critical devices: "The endoscope should be hung vertically with the distal tip hanging freely in a well-ventilated, clean area, following the endoscope manufacturer's written IFU for storage...Store endoscopes in a manner that will protect them from damage or contamination."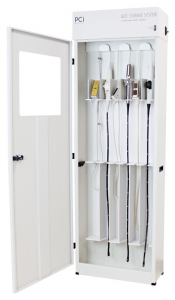 In addition to TJC's guidelines, here are more ultrasound probe storage pointers:
Make sure that the probes' cables and electrical connectors do not come in contact with the probe during handling and storage. Unlike endoscopes, only the probe itself is disinfected.
Keep disinfected probes away from dirty probes to avoid cross-contamination.
Do not use the transducer shipping case for storage.
Per Philips' guidelines, do not bend the flexible shaft of a TEE probe into a circle with a diameter of less than 0.30 m (1 ft).
Avoid storing transducers in direct sunlight or in areas of extreme temperatures.
The ideal probe storage system should incorporate a fan and HEPA filtered air that aids both in the drying process and provides positive pressure within a cabinet.
To learn more on storage, read our complete storage blog
3. All endocavity probes (vaginal, rectal and tranesophageal) require a sheath or condom in addition to a high-level disinfection.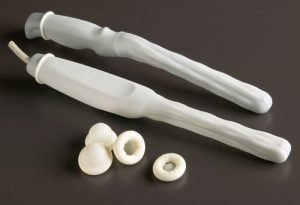 "A vaginal probe and all endocavity probes without a probe cover are semi-critical devices because they have direct contact with mucous membranes (e.g., vagina, rectum, pharynx). While the use of the probe cover could be considered as changing the category, this guideline proposes the use of a new condom/probe cover for the probe for each patient, and because condoms/probe covers can fail, the probe also should be high-level disinfected."
CDC Guideline for Disinfection and Sterilization in Healthcare Facilities, 2008
4. It is recommended to transport Transesophageal (TEE) probes in a covered container.
Frequent daily transport of ultrasound probes can pose significant challenges for your department when it comes to both infection control and probe safety. CIVCO's new TEE Probe Transport Tray helps you to maintain compliance with national transport standards and OEM guidelines, while also providing secure storage for your delicate probes during transportation, reducing the risk of damage to the TEE probe and potential cross-contamination.
The Joint Commission's recommendation:
"Remove the device from the room in a covered container..."1
Probe manufacturers (OEMs) provide specific instructions as well: "To avoid damaging the shaft... Do not bend or coil the flexible shaft of the transducer in less than a 1-ft diameter circle"2
CIVCO's new TEE Probe Transport Tray is disposable, eliminating time and resources needed to clean a reusable tray. By removing the needle to purchase additional disposables, the TEE Transport Tray can save you up to $1,370 annually* vs. a reusable tray. It features an all-new tabbed reversible lid for easy clean/dirty indication to simplify your workflow and eliminate confusion.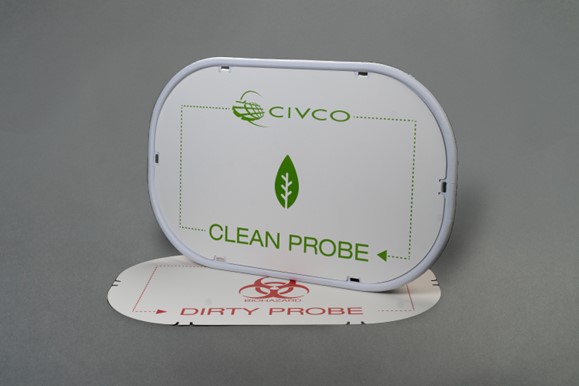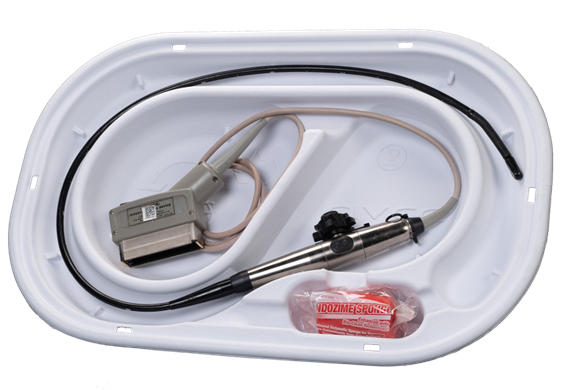 Stay tuned for part two of our Top Tips of High-Level Disinfection series. Your requests for information are also welcome; please contact us with your questions.
References
CDC, "Guideline for Disinfection and Sterilization in Healthcare Facilities," 2008
AIUM, "Guidelines for Cleaning and Preparing External- and Internal-Use Ultrasound Probes Between Patients, Safe Handling, and Use of Ultrasound Coupling Gel," (Approved 5/16/2017)
COPYRIGHT © 2017. ALL RIGHTS RESERVED. CIVCO IS A REGISTERED TRADEMARK OF CIVCO MEDICAL SOLUTIONS. GUS, ASTRA, NEOGUARD AND CIV-FLEX ARE TRADEMARKS OF CIVCO. ALL OTHER TRADEMARKS ARE THE PROPERTY OF THEIR RESPECTIVE OWNERS. ALL PRODUCTS MAY NOT BE LICENSED IN ACCORDANCE WITH CANADIAN LAW. 2017M-2982 REV 3