The Role of Contrast Ultrasound in Liver Interventions
Since the spring of 2016, the growth of ultrasound in the United States has erupted with the FDA approval of contrast for liver examinations. The contrast agents used for ultrasound consist of very small bubbles of gas surrounded by a fatty shell. These are smaller than red blood cells, so they can pass through the lungs safely. It is injected into the vascular system and does not filter through the kidneys or cause a contrast reaction that may be seen with CT or MRI contrast agents. The introduction of these micro-bubbles has allowed the visualization of the tiny vessels in the parenchyma of the liver that was previously only studied with B mode and Doppler techniques with limited success. These tiny bubbles are confined to the vascular space, making them a bit different than CT and MRI contrast agents, which rapidly clear from the blood pool into the extravascular space.1
Key advantages and disadvantages to using Contrast Enhanced Ultrasound
According to the Guidelines and Good Clinical Practice Recommendations for Contrast Enhanced Ultrasound (CEUS) in the Liver - Updated 20121, advantages and disadvantages of the clinical use of contrast in the liver include:
Advantages of Ultrasound Contrast
Real-time ultrasound to visualize the characteristics of a lesion as it fills with blood
The perfusion of the organ and increased visualization of main vessels
Guidance for difficult-to-see lesions
Ability to be re-administered repeatedly in the same session
Disadvantages of Ultrasound Contrast
Fatty infiltration can be a limiting factor for penetrating to see deep lesions
The image quality of the baseline ultrasound is comparable to the quality of the contrast-enhanced ultrasound
The smallest lesions detectible range from 3-5mm
Interventional Guidance Using Ultrasound
Ultrasound contrast can assist during interventional procedures in several ways.
For example:
Improve the visualization of difficult-to-see liver lesions enabling ultrasound-guided biopsy1
As a visual aid to help in the treatment of liver abnormalities

Radiofrequency ablation can be performed with the use of contrast ultrasound to picture borders better for a more complete ablation1
Contrast-enhanced ultrasound can be combined with fusion imaging as a follow-up tool to ensure complete lesion destruction is obtained1
3. In the case of early hepatocellular carcinoma, also referred to as HCC, transplantation or resection can be curative, with the help of intraoperative ultrasound. Contrast can be an integral part of intraoperative ultrasound lesion detection.1 Below is a case of a patient with HCC that was appreciated on MRI, and during surgery, ultrasound could not adequately image the lesion until contrast was administered. Resection was successfully performed.
Whether it be contrast-enhanced ultrasound-guided biopsy, fusion, radiofrequency ablation or surgery, CIVCO has many products that can aid in an efficient procedure.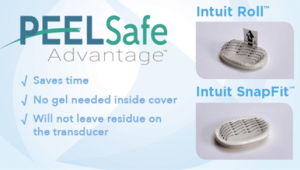 Choose one of our sterile probe covers to protect both the probe and patient from contamination during an intervention. There is no need to apply any gel to the probe before covering it within the PEELSafe Advantage™ cover, which decreases preparation time and clean-up. For more information about PEELSafe Advantage click here.
CIVCO offers needle guidance solutions to assist during ultrasound-guided procedures. Electromagnetic needle tracking is an effective tool to access difficult anatomy not easily visible under conventional ultrasound. Visit our case study library on CIVCOmmunity for more examples of how to needle tracking can add value during interventions.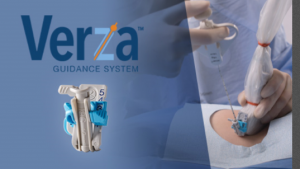 The next generation of guidance offered by CIVCO is the Verza™ Guidance System.
It offers:
Improved needle visualization
Five-angles of approach
Decreased blind-zone
Increased stability during the procedure
Quick release feature for improved workflow
References