Top Tips for High-Level Disinfection in Ultrasound - Part II
We continue sharing ultrasound probe cleaning guidelines in part two of our "Top Tips for High-Level Disinfection in Ultrasound" series. If you missed the first edition, you can read part one here.

Since ultrasound probe cleaning and disinfection practices are always evolving, healthcare workers should always acquire up-to-date information for the products and practices they use. In addition, always refer to the ultrasound manufacturers' instructions for use (IFU) and your facility's infection control policies.
1. Consider alternatives to aldehydes.
New oxidative disinfectants, such as hydrogen peroxide-based high-level disinfectants, are available in addition to aldehyde-based disinfectants.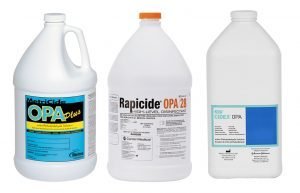 OPA is currently the most common high-level disinfectant used after proper ultrasound probe pre-cleaning. OPA is aldehyde-based chemistry marketed in three brands: CIDEX® OPA, Metricide™ OPA, and Rapicide® OPA.
Another well-known aldehyde-based disinfectant is glutaraldehyde. Note the common root word: 'aldehyde.' Glutaraldehyde-based disinfectants were the most commonly used high-level disinfectant twenty years ago.
The instructions for use (IFUs) for both OPA and glutaraldehyde mandate multiple large volumes of rinse after soaking, and glutaraldehyde high-level disinfectants require ten air exchanges per hour. Depending on the brand, you can re-use these aldehyde-based disinfectants for up to 14 days or 28 days, provided they pass the Minimum Recommended Concentration (MRC) test.
Oxidative chemistries are a safe alternative to aldehydes. There are no patient contraindications and they leave no toxic residues on devices. Many are also considered environmentally friendly. Most are two-part solutions used in dedicated automated reprocessors for endoscopes. Revital-Ox® RESERT® from STERIS is a hydrogen peroxide-based high-level disinfectant that is ready to use.
All high-level disinfectants require proper ventilation, typically a minimum of 10 air changes per hour. Note that ultrasound areas, smaller rooms, or rooms that have been converted to reprocessing areas may not meet the minimum requirements. Additional engineering controls should be implemented through use of a GUS Disinfection Soak Station™.
For faster turnaround time when manually cleaning your ultrasound probe, Revital-Ox RESERT can improve the process as follows:
8-minute disinfection
1 low-volume rinse vs. 2-3 large volume rinses. RESERT's single (and final) rinse can be done in a GUS and saves water.
Up to 21 day re-use
The ASTRA VR and ASTRA TEE® automated rerocessors for ultrasound probes are compatible with three HLDs: Revital-Ox RESERT, CIDEX OPA, and Metricide OPA.

2. Is hydrogen peroxide effective against HPV?

As of August 2017, the FDA has not actually approved a testing method for efficacy against HPV for any high-level disinfectant in the USA. Even though recent studies about high-level disinfectants claim effectiveness against HPV, more validation per proper FDA testing protocols is required before any HLD can make this claim. The list of FDA-cleared high-level disinfectants is listed on their website:
HPV is classified as a non-enveloped virus, and HPV16 and 18 are classified as non-enveloped viruses. The FDA requires the use of poliovirus as the marker virus to show effectiveness against HPV.
Marketing claims that state 7% of endocavity ultrasound probes remain contaminated with high-risk HPV DNA after disinfection refers to a low-level disinfection study in France*. High-level disinfection is required for semi-critical devices (including endocavity ultrasound probes) in the United States. In addition, a sheath or condom should be used on endovaginal/endocavity probes, which provides added protection. Low-level disinfection would not be expected to be effective against non-enveloped viruses such as HPV.
*Casalegno et al. High-Risk HPV Contamination of Endocavity Vaginal Ultrasound Probes: An Underestimated Route of Nosocomial Infection? PLoS One. 2012; 7(10): e48137. Published online 2012 Oct 24. doi: 10.1371/journal.pone.0048137
3. Electrical leak testing of TEE probes is required between each use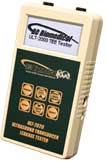 Since December 2015, the Intersocietal Accreditation Commission (IAC) requires an electrical leak test on all transesophageal (TEE) ultrasound transducers between each use. In addition, pass/fail documentation is required, with appropriate action taken if the probe fails.
Proper maintenance of your TEE probe is critical to ensure high-quality images and to extend the life of your delicate and expensive device. Electrical leak tests help you to properly maintain your device. More important, leak tests can prevent your patients from harmful electrical currents.
An electrical leak test checks for damage to the TEE probe's insertion tube that could result in an electrical charge to a patient during a procedure. CIVCO offers an electrical leak tester and webinars on how to perform the leak test. Learn about TEE leak testing and disinfection in our upcoming webinar on September 12, "How to High-Level Disinfect Transesophageal (TEE) Probes."
Stay tuned for part three of our Top Tips of High-Level Disinfection series. If you have any questions, please don't hesitate to contact us.
COPYRIGHT © 2017. ALL RIGHTS RESERVED. CIVCO IS A REGISTERED TRADEMARK OF CIVCO MEDICAL SOLUTIONS. GUS, ASTRA, NEOGUARD AND CIV-FLEX ARE TRADEMARKS OF CIVCO. ALL OTHER TRADEMARKS ARE THE PROPERTY OF THEIR RESPECTIVE OWNERS. ALL PRODUCTS MAY NOT BE LICENSED IN ACCORDANCE WITH CANADIAN LAW. 2017M-2999 REV 1