ASTRA Automated Ultrasound Probe Reprocessor: Enhanced Logging & Quality Assurance
The Joint Commission (TJC) states: "Standardizing the use of high-level disinfectants and sterilization practices are critical for ensuring that medical equipment, devices, and supplies do not transmit infectious agents to patients."1
For years, ASTRA® Automated Ultrasound Probe Reprocessors for transesophageal (TEE) and endovaginal/endorectal probes have helped hospital departments perform high-level disinfection of ultrasound probes with confidence by automating the disinfection process and providing reliable electronic record-keeping of critical disinfection information. Record-keeping requirements are determined and enforced by national standards and evidence-based guidelines from organizations such as the CDC, AAMI, AORN, The Joint Commission, and others. 2,3,4,5 The details tracked and stored by ASTRA include information such as:
Disinfection time and date
Event
Probe ID
Operator ID
Exam ID
Temperature
MRC pass/fail
Leakage Test pass/fail
Cycle Result
You can simply download the high-level disinfection cycle history at any time from the ASTRA by USB drive and easily review, distribute, print, or save it on any computer.
Nonetheless, other manual record-keeping has still existed.
What's the issue with manual record-keeping?

In keeping with manufacturers' instructions for use and evidence-based guidelines, documentation is required to monitor processes like the quality control of newly opened test strip bottles, the lot number of each high-level disinfectant and test strip bottle, and the expiration date of these consumables - not just the manufacturer's shelf-life expiration, but also the open-use expiration determined by the date the bottle's seal is broken. Make information well-documented and readily available as part of your high-level disinfection history for audits.
Quality control of newly opened test strip bottle. ASTRA is compatible with 3 industry-leading high-level disinfectants: Revital-Ox RESERT® (hydrogen peroxide), CIDEX® OPA, and MetriCide™ OPA

The issues created by manual record-keeping and quality monitoring of processes are well documented. In 2014, The Joint Commission released the article Solutions Part 2: How to Meet the Most Challenging Medical Records and Infection Control Standards.1 In it, TJClists the five most frequently noted areas for improvement. Regarding process monitoring and record-keeping specifically, The Joint Commission identifies two major areas:
Shortage in quality control and quality monitoring of processes related to ensuring concentration, exposure time, MRC testing, and exposure temperature for each cycle is accurate and documented/logged.
Record keeping and inexplicable, non-standardized logs weaken the validation, monitoring, and accountability of a process.
With a heightened regulatory and quality focus on ensuring accurate and consistent record-keeping, it is important to automate and standardize how your department tracks critical disinfection information in every way possible. Improvements in this area simplify regulatory compliance, staff training, and competency, and help significantly reduce risk in your high-level disinfection process.
This is all made possible with ASTRA.
How can I simplify compliance with industry standards?
ASTRA now offers enhanced logging of disinfection consumables, fully removing the need for any staff or manual record-keeping related to high-level disinfection of ultrasound probes. Using ASTRA for high-level disinfection can:
Reduce patient risk associated with ineffective high-level disinfectant and test strips.
Remove the possibility of accidentally using expired high-level disinfectant and test strips.
Ensure high-level disinfectant is above the MRC level every cycle.
Help staff follows the manufacturers' IFU for monitoring the test strip MRC every cycle. Remove the need for an external timer or clock.
Help staff follows the manufacturers' IFU for performing the Quality Control process with documentation for each newly opened bottle.
Guarantee use of validated chemistry.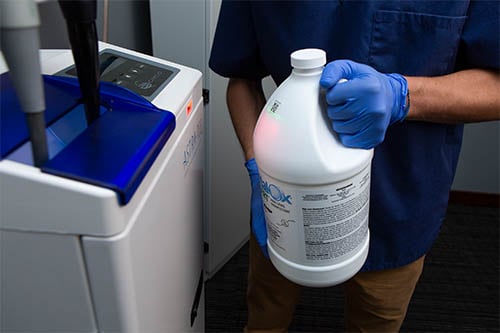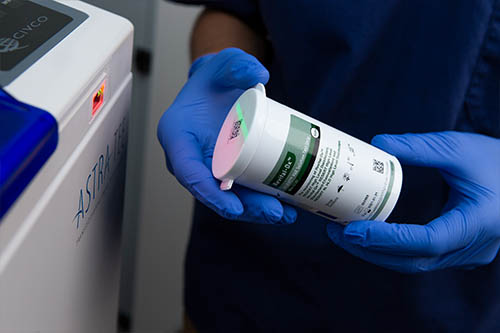 ASTRA's enhanced logging capabilities and newly optimized features streamline your disinfection process, while also allowing your department the flexibility to choose your preferred vendor for disinfection supplies.
View the Tracking Disinfection Consumables training video and learn more information on CIVCO's website.
Last, keep up to date with best practices for ultrasound probe cleaning and disinfection at our free webinar and blog series:
TEE Probe High-Level Disinfection
Additional Benefits of ASTRA Automated Ultrasound Probe Reprocessors
ASTRA TEE and ASTRA VR automated probe reprocessors are FDA-cleared to provide high-level disinfection of transesophageal and vaginal/rectal probes (including vaginal/rectal and bi-plane probes up to 16 inches long).
Optimized Speed: ASTRA offers optimized speed for probe reprocessing as the only automated high-level disinfection system to disinfect two probes in the same cycle. This not only minimizes probe turnaround time and the ability to support large caseloads but also decreases the cost per probe disinfected.
Significant Savings: ASTRA is highly cost-effective with unmatched low operating costs. ASTRA is compatible with three industry-leading high-level disinfectants (Revital-Ox RESERT® (hydrogen peroxide), CIDEX® OPA, and MetriCide™ OPA) which give your department the flexibility to choose the ideal disinfectant solution for you. All three solutions are reusable disinfectants that can be used for multiple weeks and offer additional significant savings.
Compliant Workflow: ASTRA's automated cycle ensures that each probe is effectively and consistently high-level disinfected every time. ASTRA makes compliance with disinfection guidelines and manufacturer instructions easy by ensuring the correct use of disinfection consumables, tracking and storing all necessary probe reprocessing verification details, and fully removing the need for any manual data logging.
References
THE JOINT COMMISSION: "Solutions Part 2: How to Meet the Most Challenging Medical Records and Infection Control Standards." Joint Commission Resources Quality & Safety Network (JCRQSN) Resource Guide, 24. Apr. 2014, jcrqsn.twnlms.com/LMS-app/data/Files/4523.pdf.
CENTERS FOR DISEASE CONTROL AND PREVENTION: CDC GUIDELINE FOR DISINFECTION AND STERILIZATION IN HEALTHCARE FACILITIES, 2008
AMERICAN NATIONAL STANDARDS INSTITUTE (ANSI) AND ASSOCIATION FOR THE ADVANCEMENT OF MEDICAL INSTRUMENTATION (AAMI): CHEMICAL STERILIZATION AND HIGH-LEVEL DISINFECTION IN HEALTH CARE FACILITIES, ANSI/AAMI ST58:2013
ASSOCIATION OF PERIOPERATIVE REGISTERED NURSES: AORN 2018 PERIOPERATIVE STANDARDS AND RECOMMENDED PRACTICES FOR STERILIZATION
THE JOINT COMMISSION: HIGH-LEVEL DISINFECTION (HLD) AND STERILIZATION BOOSTERPAK
COPYRIGHT ©2022. ALL RIGHTS RESERVED. CIVCO IS A REGISTERED TRADEMARK OF CIVCO MEDICAL SOLUTIONS. ASTRA IS A TRADEMARK OF CIVCO. ALL OTHER TRADEMARKS ARE THE PROPERTY OF THEIR RESPECTIVE OWNERS. ALL PRODUCTS MAY NOT BE LICENSED IN ACCORDANCE WITH CANADIAN LAW. 2020M-3166 REV 3