The Danger of Prostate Cancer
According to the American Cancer Society (ACS), prostate cancer currently ranks as the second most common type of cancer in American men, with 2022 predicted to see 268,490 new cases, and 34,500 of those cases estimated to lead to deaths. Even more shocking? The ACS also estimates that 1 in 8 men will be diagnosed with prostate cancer during his lifetime...and 1 in 41 men will die of it. 1
Fortunately, prostate cancer is not undetectable. There are several specific ways that prostate cancer can be identified at an early stage, even before symptoms begin to appear.
Detecting Prostate Cancer:
There are a variety of non-procedural methods that can first be utilized to help determine the potential presence of prostate cancer early, including Digital Rectal Examinations (DRE), 2 in which a doctor examines the rectum and other internal organs for abnormalities, and Prostate Specific Antigen blood tests, which measures the level of prostate-specific antigen (PSA) in one's blood (high PSA levels can sometimes be an indicator of prostate cancer). If a patient has either an abnormal DRE or a confirmed elevated or rising PSA level, the next step is often to proceed to an ultrasound-guided biopsy procedure, which sees prostate tissue obtained and tested for cancer diagnosis. 3
Transrectal ultrasound-guided (TRUS) biopsy is an ultrasound-guided procedure that sees a thin biopsy needle passed through the rectum and into the prostate, where cores are obtained from different regions for later testing. 4 TRUS biopsies are often performed with an end-fire probe, which helps to better facilitate sampling in the most lateral parts of the peripheral zone of the prostate, an area that typically sees significant tumor growth. 5 As of 2022, TRUS biopsies are the most common method of prostate biopsy performed in the United States, with more than 1 million procedures performed per year. 6 7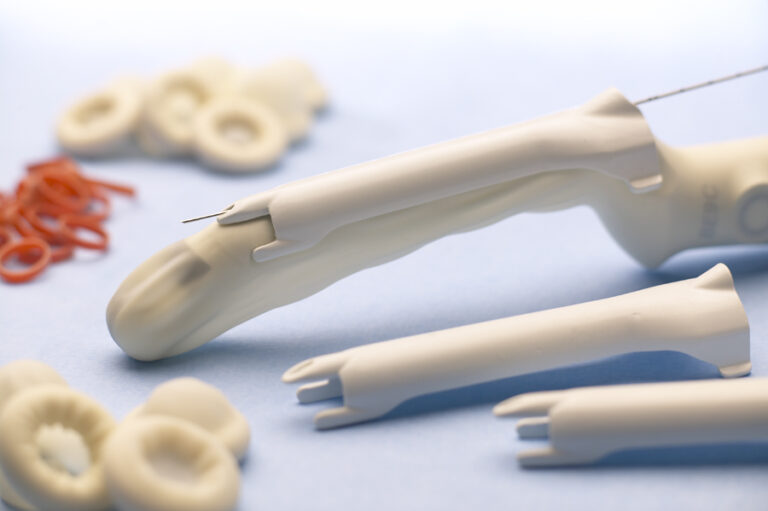 Did you know: CIVCO's Endocavity Needle Guides are designed to make your guidance procedures even safer and more efficient? Featuring a single-piece design that allows for easier use while ensuring proper positioning throughout the duration of the procedure, as well as on-screen guidelines that offer physicians real-time visualization to help ensure patient safety, CIVCO's endocavity needle guides provide physicians a more streamlined means of performing a variety of endocavity procedures, including tissue biopsy, fluid aspiration, and treatment design.
However, TRUS biopsies are not the only ultrasound-guided biopsy procedures used to screen the prostate for cancer. Transperineal Ultrasound-Guided biopsy (TPBx) is another ultrasound-guided procedure, in which a needle is inserted through the perineal skin into the prostate. 8 While the number of samples taken can vary depending on the size of the prostate - total sampling numbers can range from anywhere between 10-18 cores - the transperineal approach for prostate biopsy is increasingly popular in the U.S. and other countries, with an infection risk for sepsis considerably lower than that found in the transrectal biopsy. Particularly prominent in TPBx procedures are the utilization of "stepper" devices, which are used to cradle the ultrasound probe and provide a guidance grid for biopsy needle insertion, allowing easier access to all portions of the prostate. 8 9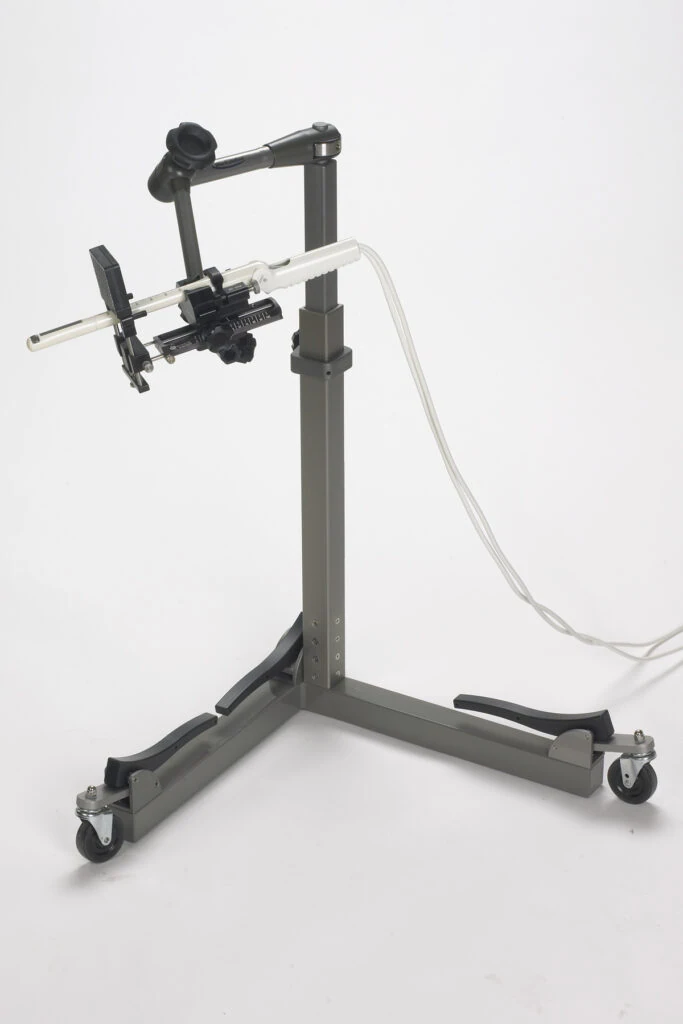 Did you know: CIVCO's Multi-Purpose Workstation Stepper is an advanced lightweight stepping device that is adaptable to a wide variety of transperineal procedures requiring ultrasound guidance? Designed for inpatient, outpatient, and clinical settings, the Multi-Purpose Workstation allows practitioners to manipulate the transducer and lock it instantly in any desired position. Adjustments can be made in every plane and axis to attain an ideal orientation and starting position, and the Stepper's quick-release feature allows the disposable grid to easily attach to the stepper during template-guided procedures, facilitating a more detailed, precise approach that allows the biopsy needle easy access to all portions of the prostate, including the anterior portion, which is often not well sampled, leading to many significant prostate cancers being missed.
Also available to assist with your TRUS biopsy procedures is CIVCO's Endocavity Balloon, which can be used to modify and position the prostate's shape and height, displacing the prostate anteriorly to better align with the stepper's grid and allowing for clearer ultrasound imaging during transperineal procedures.
Treating Prostate Cancer:
When it comes to treating the prostate for cancer, there are several options at physicians' disposal. Surgery is the most common choice for prostate cancer treatment, and can be conducted either manually or via the use of a robot (known as robotic-assisted prostatectomy). 10 Additional treatments include EBRT (external beam radiotherapy), which sees radiation beams directed at cancer cells within the prostate, 11 and HIFU (high-intensity focused ultrasound), which uses the energy of highly focused ultrasound to pinpoint and destroy prostate cancer cells. 12
Another common method used to treat prostate cancer is brachytherapy. Performed via ultrasound guidance, brachytherapy sees a small radioactive device (or "seed") inserted transperineally into the prostate, where it then resides for a set amount of time, emitting low doses of radiation until the cancerous cells are eliminated. 13 Typically performed using a stabilizer and stepping device, 14 brachytherapy can be performed either via pre-planning, which sees the seeds implanted according to a predetermined arrangement, 15 or via live-planning, where the dose and location are determined during the course of the procedure. 16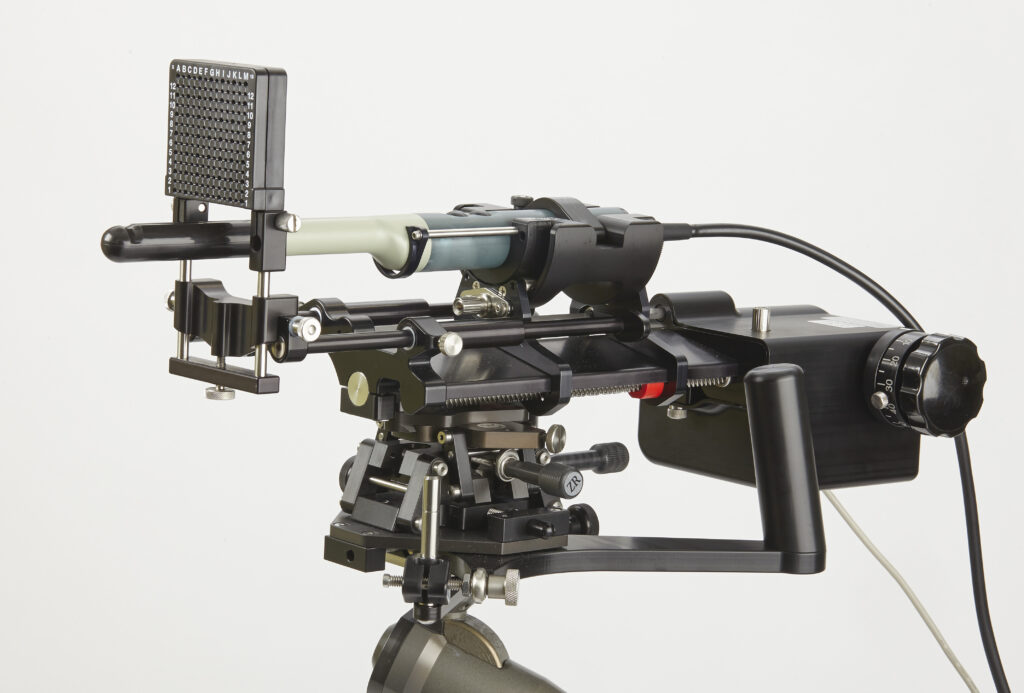 Did you know: Designed for ultrasound-guided brachytherapy, cryotherapy, and fiducial marker placement, CIVCO's EX3TM Stepper makes real-time planning procedures simpler. Featuring a unique design that includes a smooth rotation and free movement that makes treatment of prostate cancer easy, the EX3 TM Stepper is equipped to make every step of your cryotherapy and fiducial marker placement procedures safer, faster, and more accurate.
Did you know: CIVCO's Classic Stepper is adaptable to a variety of brachytherapy biplane transducers and features a secure centerline detent with 60-degree angular rotation, as well as easy-to-read marking scales that are aligned to help illustrate base to apex movements of the probe. It also features easy transducer rotation for CIVCO endocavity balloon installation, as well as independent grid movement to allow a "flush" placement against the perineum, allowing for easier and improved pre-planned needle placement within the gland.
To learn more about how CIVCO's EX3TM and Classic Steppers can help optimize your procedures, click here: https://www.civco.com/products/transperineal-prostate-solutions/.
Caring for Your Device, Post-Procedure:
According to the Spaulding Classification, all devices that are classified as being "semi-critical" (i.e. devices that contact mucous membranes, non-intact skin, or high-risk patients) are required to receive high-level disinfection between patients. 17 High-level disinfection is the chemical destruction of all microorganisms, except for bacterial spores, and can be conducted with a variety of different types of high-level disinfectants, including ortho-phthalaldehyde (OPA), glutaraldehyde, hydrogen peroxide, or peracetic acid. 18 When conducting manual high-level disinfection, individuals should remember to use personal protective equipment, while also ensuring to not oversoak the probe in HLD or expose the probe's electrical connector holder to any liquids. 19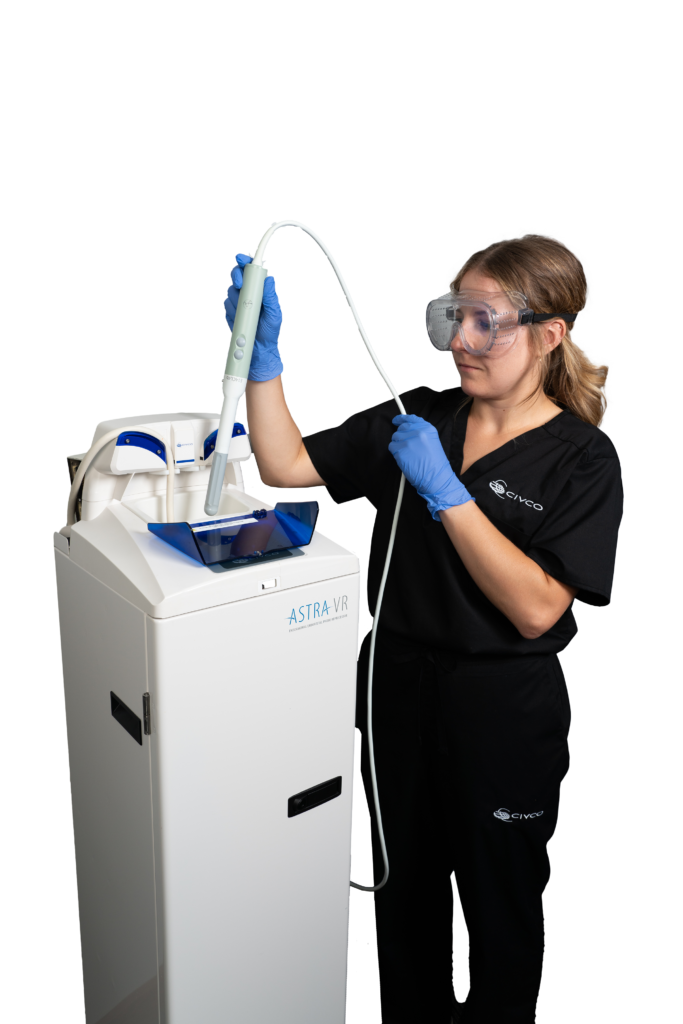 Automated high-level disinfection devices offer an alternative to manual ultrasound probe disinfection processes, improving patient and operator safety by preventing exposure to toxic chemicals, while also reducing the risk of operator error. 20
Did you know: CIVCO's ASTRA VR Automated Probe Disinfection System for vaginal/rectal probes, including biplane probes up to 16 inches long, is designed to streamline your disinfection process, helping you to achieve workflow efficiency, significant savings, and a compliant workflow. ASTRA's automated data logging and consumable tracking remove the need for any manual logging, while its clear, easy-to-follow prompts guide you through the disinfection process, helping you to stay compliant with the Joint Commission standards while maximizing safety. Even better, ASTRA helps to reduce long-term operating costs with your choice of 4 reusable, industry-leading disinfectants, including UltrOx™, Revital-Ox® RESERT® (hydrogen peroxide), Cidex® OPA, and Metricide™ OPA Plus.
Properly transporting your rectal/biplane ultrasound probes after high-level disinfection is another critical component of making sure that your transducer remains safe from additional contamination. The ECRI states, "After HLD, the portions of the probe that were disinfected should not come in contact with the cable or connector, in order to avoid recontamination." 21 AAMI goes even further, stating, "...transport containers and carts must be marked with a biohazard label or other means of identifying contaminated contents," and "...bins with lids, enclosed or covered carts, rigid sterilization containers and impermeable bags are among the type of containers that may be used." 22
Did you know: CIVCO's General Purpose & Endocavity Probe Transport & Storage Bags can help streamline your probe transportation process? The single-use probe transportation and storage bags provide a barrier to protect patients and staff from cross-contamination, safeguarding the high-level disinfected probe shaft from the low-level disinfected handle, cord, and connector. Additionally, the bags feature clear biohazard and clean/disinfected label indications, allowing for a clear, simplified workflow.
Just as important as properly transporting your probe post-high-level disinfection is making sure that it is stored appropriately. According to AAMI, "having a single organism survive disinfection can lead to organism proliferation if that endoscope is not dried and stored properly." 23
Did you know: CIVCO's Ultrasound Probe Storage System provides a safe and clean storage environment for your disinfected general purpose and endocavity ultrasound probes? The Probe Storage System's specialty shelves both protect transducers from damage and separate connectors and probes with the vertical suspension to facilitate drying, while its HEPA filtration system provides continuous clean airflow and positive pressure in a dry environment, ensuring that your probes remain safe and protected from contamination during storage.
References:
American Cancer Society (ACS), "Key Statistics for Prostate Cancer," 2022. https://www.cancer.org/cancer/prostate-cancer/about/key-statistics.html
National Cancer Institute (NCI), "Definition - "Digital Rectal Examination,"" 2022. https://www.cancer.gov/publications/dictionaries/cancer-terms/def/digital-rectal-examination
National Cancer Institute (NCI), "Prostate-Specific Antigen (PSA) Test," 2022. https://www.cancer.gov/types/prostate/psa-fact-sheet
Cancer Research UK (CRUK), "Transrectal ultrasound scan (TRUS) and biopsy for prostate cancer," 2022. https://www.cancerresearchuk.org/about-cancer/cancer-in-general/tests/transrectal-ultrasound-guided-trus-biopsy
Ching, C. B., Moussa, A. S., Li, J., Lane, B. R., Zippe, C., & Jones, J. S. (May 01, 2009). Does transrectal ultrasound probe configuration really matter? End fire versus side fire probe prostate cancer detection rates. The Journal of Urology, 181, 5, 2077. https://pubmed.ncbi.nlm.nih.gov/19286200/
Power, J., Murphy, M., Hutchinson, B., Murphy, D., McNicholas, M., O'Malley, K., Murray, J., ... Cronin, C. (April 25, 2022). Transperineal ultrasound-guided prostate biopsy: what the radiologist needs to know. Insights into Imaging, 13, 1, 77. https://www.ncbi.nlm.nih.gov/pmc/articles/PMC9038983/
Minervini, A., Vittori, G., Siena, G., & Carini, M. (May 01, 2014). Morbidity and psychological impact of prostate biopsy: The future calls for a change. Asian Journal of Andrology, 16, 3, 415-417. https://www.ncbi.nlm.nih.gov/pmc/articles/PMC4023369/
Mayo Clinic, "Ultrasound-guided transperineal prostate biopsy," 2019. https://www.mayoclinic.org/medical-professionals/urology/news/ultrasound-guided-transperineal-prostate-biopsy/mac-20473283
Thomson, A., Li, M., Sengupta, S., Li, M., Sengupta, S., Grummet, J., Grummet, J., ... Sengupta, S. (December 01, 2021). Transperineal prostate biopsy: A review of technique. Translational Andrology and Urology, 9, 6, 3009-3017. https://www.ncbi.nlm.nih.gov/pmc/articles/PMC7807331/
American Cancer Society (ACS), "Surgery for Prostate Cancer," 2019. https://www.cancer.org/cancer/prostate-cancer/treating/surgery.html
National Cancer Institute (NCI), "External Beam Radiation Therapy for Cancer," 2018. https://www.cancer.gov/about-cancer/treatment/types/radiation-therapy/external-beam
Cleveland Clinic, "High-Intensity Focused Ultrasound (HIFU) for Prostate Cancer," 2020. https://my.clevelandclinic.org/health/treatments/16541-high-intensity-focused-ultrasound-hifu-for-prostate-cancer
American Cancer Society (ACS), "Radiation Therapy for Prostate Cancer," https://www.cancer.org/cancer/prostate-cancer/treating/radiation-therapy.html
Smith, B. R., Strand, S. A., Dunkerley, D., Flynn, R. T., Besemer, A. E., Kos, J. D., Caster, J. M., ... Kim, Y. (January 01, 2021). Implementation of a real-time, ultrasound-guided prostate HDR brachytherapy program. Journal of Applied Clinical Medical Physics, 22, 9, 189-214. https://www.ncbi.nlm.nih.gov/pmc/articles/PMC8425918/
Yoshida, K., Ohashi, T., Yorozu, A., Toya, K., Nishiyama, T., Saito, S., Hanada, T., ... Shigematsu, N. (April 01, 2013). Comparison of Preplanning and Intraoperative Planning for I-125 Prostate Brachytherapy. Japanese Journal of Clinical Oncology, 43, 4, 383-389. https://academic.oup.com/jjco/article/43/4/383/974760
Moorrees, J., Lawson, J.M. & Marcu, L.G. Assessment of I-125 seed implant accuracy when using the live-planning technique for low dose rate prostate brachytherapy. Radiat Oncol 7, 196 (2012). https://doi.org/10.1186/1748-717X-7-196 https://ro-journal.biomedcentral.com/articles/10.1186/1748-717X-7-196
Global Guidelines for the Prevention of Surgical Site Infection, Geneva: World Health Organization; 2018, Table 3.3.3, Spaulding classification of equipment decontamination. Available from: https://www.ncbi.nlm.nih.gov/books/NBK536426/table/ch3.tab7/
Centers for Disease Control and Prevention (CDC), "Guideline for Disinfection and Sterilization in Healthcare Facilities (2008) - Table 4: Comparison of the characteristics of selected chemicals used as high-level disinfectants or chemical sterilants", 2017. https://www.cdc.gov/infectioncontrol/guidelines/disinfection/tables/table4.html
Henn, S. A., Boiano, J. M., & Steege, A. L. (February 01, 2015). Precautionary Practices of Healthcare Workers Who Disinfect Medical and Dental Devices Using High-Level Disinfectants. Infection Control & Hospital Epidemiology, 36, 2, 180-185. https://www.ncbi.nlm.nih.gov/pmc/articles/PMC4976393/
Vickery, K., Gorgis, V. Z., Burdach, J., & Patel, D. (January 01, 2014). Evaluation of an automated high-level disinfection technology for ultrasound transducers. Journal of Infection and Public Health, 7, 2, 153-60. https://pubmed.ncbi.nlm.nih.gov/24314741/
Emergency Care Research Institute (ECRI), "Cleaning and Disinfecting Diagnostic Ultrasound Transducers: Our Recommendations," 2018, https://www.ecri.org/components/HDJournal/Pages/Recommendations-for-Disinfecting-Ultrasound-Transducers.aspx
ANSI/AAMI ST58:2013/(R) 2018, "Chemical sterilization and high-level disinfection in health care facilities."
Association for the Advancement of Medical Instrumentation (AAMI), "Drying and Storage of Flexible Endoscopes: An Area of Growing Concern," 2020. https://www.aami.org/docs/default-source/bi-t/bit/drying-storing-endoscopes—bit-may-june-2020.pdf
COPYRIGHT © 2022. ALL RIGHTS RESERVED. CIVCO IS A REGISTERED TRADEMARK OF CIVCO MEDICAL SOLUTIONS. ALL OTHER TRADEMARKS ARE THE PROPERTY OF THEIR RESPECTIVE OWNERS. ALL PRODUCTS MAY NOT BE LICENSED IN ACCORDANCE WITH CANADIAN LAW. Printed in USA. 2022M-3299 REV. 1